LuXout Stage Curtains Updates Its Online Quote Tool With Another Industry First Offering
Web-based tool is only to offer instant specifications and pricing, including ADC hardware, as well as repair, cleaning and fire treatment
Press Release
-
updated: Jul 10, 2017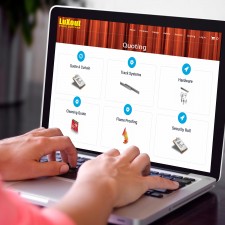 Richmond, VA, July 10, 2017 (Newswire.com) - With the introduction of its online quote tool in 2016, Richmond, Va.-based LuXout Stage Curtains was first to offer its customers the ability to quickly and accurately create their own estimates. An industry first, the system proved indispensable for everything from theater managers, facilities management professionals, and contractors, to virtually anyone in need of quick online quotes and accurate specifications for stage curtains. Now the company is unveiling an update, which allows anyone to not only design their own curtains and systems but to price and schedule services, like cleaning, repairs and fire treatments.
"These days, people need highly accurate information more or less immediately," says Tony Lovette, LuXout's president. "And we feel that you should be able to do that without having to be an expert in the industry. With our system, customers just go to the website and click on 'Quote.' Layout, design, pricing—it does everything."
With the latest update, LuXout's automated system remains the only option for obtaining complete quotes, including catalogues with ADC track hardware. As a result, customers no longer have to go through a salesperson in order to obtain final details and pricing.
"A year ago, this system was a game changer for the industry," says Ned Dunford, LuXout's lead salesperson for stage curtains. "Don't get me wrong, we still rely on our decades of experience to eye the details for every order, but the system is so intuitively designed that it's rare we need to change anything."
He says that means fewer surprises not only for the company but also for its customers, who get instant access to highly detailed information.
Media Contact:​
​Kimberly Swope
LuXout Stage Curtains
1221 Admiral Street
Richmond, VA 23220
​Tel: 804.264.3000
​kswope@luxout.com
About LuXout Stage Curtains                                                 
LuXout Stage Curtains is a Richmond, Va.-based provider of superior, hand-crafted stage curtains, including expert design and manufacturing for educational facilities and performance venues nationwide. The company is noted for its one-of-a-kind eye for craftsmanship and design quality, as well as superior customer service. For more information, visit www.luxout.com or call 800-817-1204.
Source: LuXout Stage Curtains
Share:
---
Categories: Performing Arts, Theater, Construction, Facilities Maintenance & Management, Venues, Event Lighting, Sound, Sets, and Production
Tags: Arts, Drama, Education, Facilities Management, Performance Venues, Performing Arts, Stage Curtain, Theater, Theater Management
---