Luxe Surfaces Celebrates Culture of Reuse: Reintroduces Patty Madden WOW Wallcovering Collection
Wallcovering's Connection To Second Chances
Press Release
-
updated: Jun 12, 2018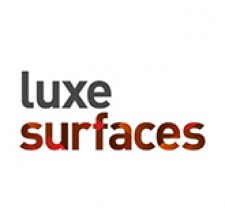 DALLAS, June 12, 2018 (Newswire.com) - Luxe Surfaces, champion of architectural revitalization, announces the reissue of Patty Madden's "renovated" WOW wallcovering collection. America's architectural landscape is replete with commercial buildings from the 60's and 70's once thought to be architecturally progressive, but now ill-suited to the modern needs of the Millennial consumer and workforce. Owners and designers must balance ideas of historical authenticity, connectivity and art, with structural integrity and cost; capturing a property's best attributes while transforming them into attractive, highly functional buildings that act as fresh, revitalized and highly functional community and commercial hubs.
Parent company, Luxe Surfaces, reissues Patty's 8 wallcovering patterns influenced by a mid-century aesthetic in a modern palette of earthen neutrals and energetic saturated hues; a natural fit for the move towards larger windows, higher ceilings and the integration of natural surroundings into interior design. Each pattern exhibits timelessly iconic motifs — organic, fluid and geometric — highlighted with dichroic inks for a subtle metallic opalescence. States Patty, "These designs open up the possibilities inherent in our dated structures. While such projects demand integrated thinking and creativity, a simple wall "renovation" affirms that outmoded architecture can serve and inspire in unexpected ways…again."
Given pressures on materials and resources, the flexibility of wallcovering is appealing to owners and designers alike. The WOW collection, with its mix of clean lines and organic form, balances minimalism and contrast mixing easily with existing styles and surfaces not so easily changed. The result is a superior, more effective space that helps proprietors rebrand existing properties, increase occupant well-being, and generate financial benefits. If you are considering the transformative reuse of an existing property, explore Patty Madden's revitalized WOW Collection. Available for viewing at www.luxesurfaces.com. ###
For more information about this topic, please call Marie Leon at (469) 360-0900, or email marie.leon@luxesurfaces.com.
Source: Luxe Surfaces
Share:
---
Categories: Home Improvement and Renovations, Architecture and Design
Tags: contemporary interiors, interior design, Luxe Surfaces, modern wallcovering, Patty Madden Wallcovering, wall design, wallcovering
---