Borio Chiropractic Health Center Discusses How Lung Function Can Improve With Chiropractic Care
Press Release
-
Oct 31, 2016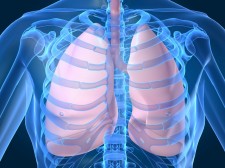 Syracuse, NY, October 31, 2016 (Newswire.com) - A study presented in the September 1997 issue of the Journal of Vertebral Subluxation Research finds that patients in the study experienced "significant positive changes" in breathing capacity and lung function under chiropractic care.
Fifty-five patients were studied in a private office setting.  Of the fifty-five patients 33 (60%) of them had lung function outside the normal range.  All the patients were monitored with spirometers (instruments which measure lung capacity and function) before and after chiropractic care.
While the average lung function of all fifty-five patients improved, the 33 whose breathing was most impaired had the best response to chiropractic care.  Also, patients who were in the 48-80 age group did better than those in the 18-47 age group.
It doesn't surprise us that those patients with the most impairment improved the most under chiropractic care.  This study is a prime example that when nerve interference (especially that interference which occurs with a vertebral subluxation) is corrected, the body is better able to repair itself and maintain a higher degree of health.  Ensuing research supports this fact.  The Fall 1999 issue of the Chiropractic Research Journal (vol. 6, no. 2) reports that patients under chiropractic care reported an improvement in their general health status after receiving chiropractic adjustments.
Your entire family needs to be under Lifetime Chiropractic Wellness Care so that they can function to the best of their abilities and stay healthy for the rest of their lives. 
Borio Chiropractic's purpose is to educate and adjust families toward optimal health with natural chiropractic care.
Contact Information:
Borio Chiropractic Health Center
Dr Joe Borio​ (315) 699-1441​
drborio@boriochiropractic.com
8212 Brewerton Rd, Cicero NY 13039
Source: Borio Chiropractic Health Center
Share:
---
Categories: Healthcare, Active and Healthy Living, Chiropractic
Tags: asthma, back pain, BCHC, Chiropractic care, Dr Joe borio, Dr Joseph Borio, neck pain
---