Lucas, Macyszyn & Dyer Injury Firm Open Tarpon Springs Location
Press Release
•
Feb 2, 2023
Recognized Legal Team Expands Services to Pinellas County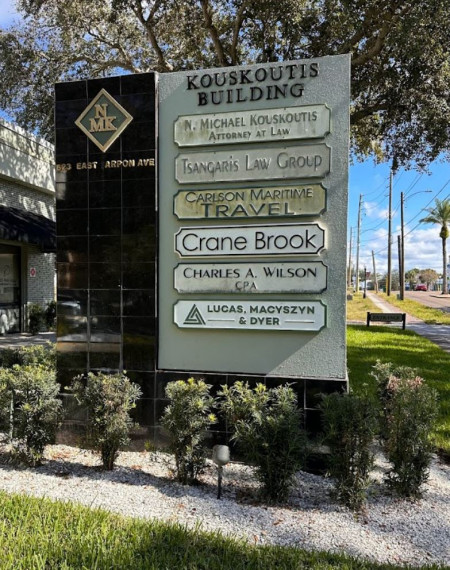 TARPON SPRINGS, Fla., February 2, 2023 (Newswire.com) - The Lucas, Macyszyn & Dyer Injury Firm is pleased to announce the opening of its new location in Tarpon Springs, Florida. With offices located in New Port Richey, Spring Hill, Wesley Chapel, and Inverness, the addition of Tarpon Springs welcomes an expansion in offering legal services to even more locales within the greater Florida area.
The firm's new branch is conveniently located at 623 East Tarpon Avenue, Tarpon Springs, Florida, 34689. It is easily accessible by Highway 19 and via public transportation. The firm is thrilled to commemorate this occasion as an opportunity to serve the growing Tarpon Springs community and provide stalwart legal services to its residents.
Tarpon Springs is growing quickly; while its population size is small compared to neighboring Tampa, the municipality has seen significant growth over the past 10 years. In 2022, Pinellas County reported over 15,000 motor vehicle accidents, including pedestrian and motorcycle collisions. The Lucas, Macyszyn & Dyer firm is well aware that the needs of this city are growing and is proud to offer legal services to the thousands of residents who call Tarpon Springs their home.
The firm has strong ties to the Tarpon Springs area and knows that accidents and injury are far too common, even among the picturesque bayous and beaches of this coastal city. Partner and attorney Jeff Lucas had previously practiced at another law firm in Tarpon Springs before founding the practice that later came to be known as Lucas, Macyszyn & Dyer. The practiced attorneys who make the firm what it is today have in-depth knowledge of what Tarpon Springs has to offer and the accidents that residents commonly experience. They are able to contact the best local experts when a case requires insight into a particular area and have established relationships with the city's network of law enforcement, hospitals, and care facilities.
The Lucas, Macyszyn & Dyer Injury Firm has dedicated over two decades to seeking fair compensation for victims of car accidents and personal injury, in addition to other legal matters; family law, business law, criminal defense, debt defense, and foreclosure defense.
Partners Jeff Lucas, Martin Macyszyn, and Christopher Dyer, along with their team of trusted attorneys, are fierce advocates for clients. Over the course of thousands of cases and millions of dollars in compensation, the Lucas, Macyszyn & Dyer Injury Firm have proven time and time again that they will go above and beyond to help injured claimants recover from life-changing accidents.
If you or someone you love has been injured in an accident or has a legal matter to discuss with a qualified Tarpon Springs lawyer, don't hesitate to contact the Lucas, Macyszyn & Dyer Injury Firm for a free case review and consultation. A skilled personal injury attorney is standing by and eager to help.
Source: Lucas, Macyszyn & Dyer Law Firm