Looper Caddies on Demand Becomes CaddieNow
New name better conveys service as Golf App gains in popularity
Press Release
-
updated: Sep 25, 2017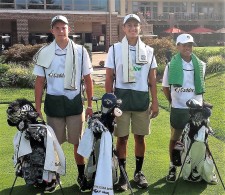 Haymarket, VA., September 25, 2017 (Newswire.com) - LOOPER Caddies On Demand has changed its name to CaddieNow beginning today.  The popular App, which matches golfers with available caddies, has also undergone a major update as the company continues its expansion into additional  markets across America this Fall and in 2018.
Company officials believe now is the best time to rebrand the virtual marketplace to CaddieNow, as the name better conveys the service at a time when it continues to gain momentum, popularity and growth.  More courses have signed agreements with CaddieNow, including some legendary clubs with existing caddie programs to be announced soon.
"We are excited about the growth and future of our new brand," said CaddieNow CEO Dave Cavossa, who helped found the company more than two years ago. "We are pleased clubs and courses are reaching out and inviting CaddieNow to be their partner in providing golfers a better experience.  With our new and improved caddie management software, we have the latest technology right as we continue expanding nationally.  In that spirit, CaddieNow instantly connotes what we provide."
CaddieNow launched its new website and app effective immediately today, along with a revised logo as part of the rebranding.  The service remains a shared-economy app, in the model of popular ride-sharing services like Uber and Lyft.  The user-friendly marketplace has gained a following in the industry because it's easy for golfers to book caddies, for caddies to find work, and for courses to offer caddie services.
Founded in 2015, CaddieNow will retain its stated mission: "To bring caddies back to the game and give every golfer at every course the option of taking a caddie."  The company's goal is to engage the youngest generation in golf by providing them exposure to the game and access to multiple courses as caddies.
To use the service, golfers simply download the CaddieNow app, which is available for iPhone and Android devices, and register.  After golfers enter the course, date and time they plan to play, they receive a confirmation notice from their looper, who will meet them at the course. Fees range from $20 - $120, plus tip, depending on the golfer's desired level of caddy experience.
The company is currently operating on more than 100 courses. 
Media Contact:  Jimmy Ervin 703-623-2229
   jimmy@CaddieNow.com
Source: CaddieNow
Share:
---
Categories: Sports-related Business, Golf, Amateur Sports, High Technology
Tags: Caddies, country clubs, Golf, golf courses, golf resorts
---