Lookuptrips.com - Encyclopedia for All Travel Enthusiasts
Press Release
•
updated: Sep 25, 2020
Travel Advice and Guides to Incredible Trips Worldwide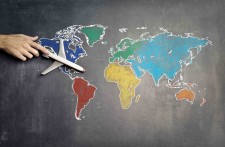 NEW YORK, September 25, 2020 (Newswire.com) - LookupTrips.com is a travel editorial company founded in 2016. It is located on two continents, in India and the USA. They write articles about destinations around the world.
Traveling is their passion. And it will probably be yours as soon as you're here. In a short period of time, they managed to travel virtually with you to about one hundred destinations. They wrote about all of them, and you can check why they are different.
People from LookupTrips.com know best what it was like for them when they set out on a journey. They inquired about everything; it's no secret.
Which transport is the easiest to reach a destination? Which pays off the most? When is it better to book accommodation? Before departure or only upon arrival at the destination? Where to eat and what to visit? All these questions were running through their heads. And that is why they decided to share the collected answers. LookupTrips.com are friends you can rely on.
"Lookuptrips.com is building an encyclopedia for every kind of traveler. We are working on unique digital guides for travelers. Our mission is to enable them to get some inspiration about places they would like to travel to. Our goal is to cover every destination on our planet and offer a unique travel guide for people from anywhere in the world," said Lokesh Pant, founder of LookupTrips.com.
"These guides will allow travelers to find the best things to do and everything else they can experience while visiting any destination," Pant added.
Their collaborators from all over the world are working on creating the best content. That allows them to create an encyclopedia for all travel enthusiasts. If you are one of them, it will be a pleasure for them to be your companions on your next trip. Where do you plan to travel? Check the LookupTrips.com website and find a new place to explore.
"Our future updates are toward creating mobile applications. This will allow users to find the right information. They can enjoy their time at the destination. And all that in a unique and very simple-to-use application and a website. Lookuptrips.com aims to provide hidden fares on everything -- prices that are not usually online and visible. This could save you a fortune while traveling," said Neeraj Upreti, Head Technology Development Team.
Are you wondering why to check LookupTrips.com if you are planning to go on a trip? Their answer is simple: Because our experience is your experience!
Source: Lookuptrips Inc
Tags
Related Files
Additional Links