Longwood Fund Strengthens Investment Team
Press Release
•
updated: Apr 26, 2021
Priyanka Rohatgi, PhD, joins as full time Venture Partner and Aleks Radovic-Moreno, PhD promoted to Partner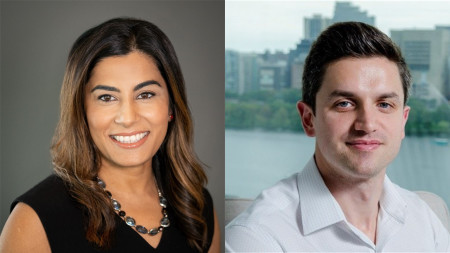 BOSTON, April 26, 2021 (Newswire.com) - Longwood Fund, an early-stage venture capital firm creating and investing in science-based companies that develop novel solutions to treat important unmet medical needs, today announced that it has further strengthened its investment team with the addition of Priyanka Rohatgi, PhD as full-time Venture Partner and has promoted Aleks Radovic-Moreno, Ph.D. to Partner. Each brings over 10 years of life science investing and company creation experience to the team.
Dr. Rohatgi, previously the managing director and head of Ipsen Ventures, led Ipsen's 2019 investment into the Series A round of financing of Longwood-founded Pyxis Oncology. Ipsen and Longwood Fund also participated in Pyxis Oncology's recently announced $152 million Series B round of financing.
Dr. Radovic-Moreno joined the Longwood Fund team in 2019 as an entrepreneur-in-residence and led the scientific ideation and co-founding of Longwood-founded Be Biopharma. Be Biopharma launched in 2020 with a $52 million Series A round of financing to advance engineered B cells as medicines. He is also a co-founder of Longwood-founded Tome Bio.
"We are thrilled to further strengthen our team with Priyanka and Aleks," said Christoph Westphal, MD, PhD, General Partner at Longwood Fund. "Priyanka has been a valued member of our network for years and we are pleased to welcome her into the Longwood family. Aleks has extraordinary scientific aptitude and skill in company creation and investing."
At Ipsen Ventures, Dr. Rohatgi managed limited partnerships and direct investments in innovative biotech companies in oncology and rare diseases. Previously, she was an investment director at two strategic venture funds, AbbVie Ventures and Baxter Ventures. She has been investing in therapeutics and medical devices for over a decade across an array of therapeutic areas including oncology, immunology, renal, and neurodegenerative diseases. Dr. Rohatgi has led numerous investments, spun out companies from academic institutions, and built an accelerator with a build-to-buy model for Baxter. She previously served as a board observer/member of Syntimmune (acquired by Alexion), Naurex (acquired by Allergan), Sanifit, Mirna, Artios, Xilio Therapeutics as well as Longwood-founded Pyxis Oncology. Prior to her tenure in venture capital, Dr. Rohatgi was a member of the Baxter research and development team, focusing on drug metabolism and clinical pharmacology. She served as a postdoctoral fellow in the School of Pharmacy at University of Washington, has a PhD in Biochemistry and Masters in Bioinformatics from the Georgia Institute of Technology, a Masters in Pharmaceutics from the University of Washington, Masters in Biology from the Indiana University of Pennsylvania, and a Bachelor of Science from the University of Delhi.
Dr. Radovic-Moreno joined the Longwood team as an entrepreneur-in-residence in 2019 and has spent his career in early-stage venture creation. Along with Longwood General Partner David Steinberg, Dr. Radovic-Moreno was a co-founder of Vor Biopharma. He also co-founded and acted as interim CEO of Alivio Therapeutics. Previously a scientist at Exicure, Inc. he was the lead inventor of AST-008, now in Phase II trials for treating various solid tumors. Dr. Radovic-Moreno completed his graduate work as a National Science Foundation Fellow in Dr. Robert Langer's lab at MIT where he developed novel strategies for managing bacterial infections. He was awarded the Alumni Achievement Award by the Pennsylvania State University for extraordinary professional accomplishment by graduates under the age of 35. He received his Bachelor of Science in Chemical Engineering from the Pennsylvania State University and PhD in Chemical and Biomedical Engineering from MIT and the Harvard-MIT Division of Health Sciences & Technology.
Longwood Fund
Longwood Fund is a venture capital firm dedicated to creating and investing in novel healthcare companies that develop important treatments to help patients while targeting significant value for investors. The Longwood team has a long history of successfully launching and building important life science companies while providing operational leadership and strategic guidance. Collectively, the Partners at Longwood Fund have co-founded 23 companies with over 20 launched or marketed drugs and therapies, as well as over two dozen clinical-stage assets, all focused on helping patients in need. Companies founded by Longwood Fund, or its principals prior to the founding of the Firm, as lead investor and CEO/CBO include Vertex, Acceleron, Momenta, Alnylam, Sirtris, Vor, TScan, Pyxis Oncology, Immunitas, Be Biopharma, ImmuneID, and Tome Bio. For more information, visit www.longwoodfund.com.
Source: Longwood Fund