Lola's Fine Hot Sauce and Casey's Welcome 2022 With Spicy Snack Collaboration
Press Release
•
Jan 21, 2022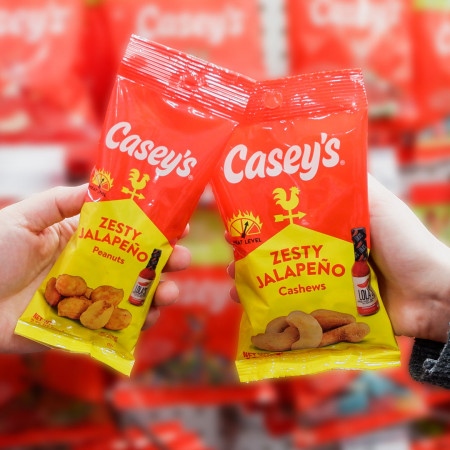 DES MOINES, Iowa, January 21, 2022 (Newswire.com) - Premium hot sauce brand Lola's Fine Hot Sauce has announced a partnership with Casey's, the third-largest convenience retailer, which gives birth to three new exciting snacks - Casey's Zesty Jalapeno Peanuts, Casey's Zesty Jalapeno Cashews, and Casey's Zesty Jalapeno Pretzels.
These new Casey's snacks featuring Lola's iconic flavor will be available in the convenience stores at over 2,400 locations starting January 22. Taufeek Shah, founder and CEO of Lola's Fine Hot Sauce made the announcement recently and expressed his excitement over the collaboration.
"Our partnership with Casey's means a lot to our small, family-owned business," said Shah. "Our generational family recipe hot sauce has the perfect flavor with just the right amount of heat that the Casey's guests are looking for and it's the perfect partnership. With both companies established right here in the Des Moines metro, it's incredible to see a growing, leading retailer like Casey's support local and diverse businesses. We couldn't be more thankful and humbled to be part of the Casey's family."
Tom Brennan, Chief Merchandising Officer at Casey's, is equally thrilled for this collaboration.
"We are excited to introduce these new, tasty snacks with Lola's unique flavor into our Casey's snack offering across our over 2,400 stores," said Brennan. "Our guests expect convenient, delicious options at a great price when they stop at their local Casey's. By partnering with Lola's, we're able to deliver on that promise while supporting another business in our community."
Casey's Zesty Jalapeno Peanuts will retail for $0.99 per pack, Casey's Zesty Jalapeno Cashews at $3.99 each, and Casey's Zesty Jalapeno Pretzels at $3.49 each.
Casey's is present in 16 states in the midwestern and southern region, including Arkansas, Illinois, Indiana, Iowa, Kansas, Kentucky, Michigan, Minnesota, Missouri, Nebraska, North Dakota, Ohio, Oklahoma, South Dakota, Tennessee, and Wisconsin. To find a Casey's location near you, visit Casey's website or download the Casey's app.
Lola's Fine Hot Sauce is a well-loved hot sauce brand that's present in most grocery stores and supermarkets nationwide, including Target, Kroger, Whole Foods, and Stop and Shop. In Canada, you can get it from Farm Boy, Fresh & Wild, as well as Bruno's Signature. You can also order via their website, which sells the complete line of hot sauces, salsas, seasonings, as well as fun, quirky merch.
Lola's products are made from all-natural ingredients, are vegan, keto-friendly, and gluten-free, which is why it is the preferred hot sauce brand of people who are conscious about what they eat. To know more about them, you may visit www.lolasfinehotsauce.com and follow @lolasfinehotsauce on Instagram and Facebook.
About Lola's Fine Hot Sauce
Lola's Fine Hot Sauce can be found across the United States, internationally in Canada, the Philippines, and in the Virgin Islands. Lola's is available at many online stores and in grocery stores such as Hy-Vee, Meijer, Kroger, Target, Whole Foods, and many more grocery stores. Lola's Fine Hot Sauce enjoys publishing interesting new content around upcoming product launches, how they make their recipes, and the story of the company on Facebook, Twitter, Instagram, and Youtube.
About Casey's
Casey's is a Fortune 500 company (NASDAQ: CASY) operating over 2,400 convenience stores. Founded more than 50 years ago, the company has grown to become the third-largest convenience store retailer and the fifth-largest pizza chain in the United States. Casey's provides freshly prepared foods, quality fuel and friendly service at its locations. Guests can enjoy pizza, donuts, other assorted bakery items, and a wide selection of beverages and snacks. Learn more and order online at www.caseys.com, or in the mobile app.
Source: Lola's Fine Hot Sauce