Logi-Serve's On Demand Employee Assessment Solution Now Available on SAP® App Center
Businesses can now access a best-in-class turnkey, on-demand employee assessment solution with their SAP login credentials
Press Release
-
updated: Jul 31, 2019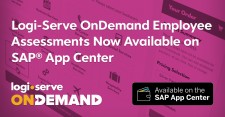 FARMINGTON HILLS, Mich., July 31, 2019 (Newswire.com) - Logi-Serve, LLC today announced that its On Demand Employee Assessment solution is now available for purchase on the SAP® App Center, the digital marketplace for SAP partner offerings. The solution integrates with SAP® SuccessFactors® Recruiting and is accessible to any business that uses SAP solutions via single sign-on. Logi-Serve's On-Demand Employee Assessment app delivers validated and proven science and technology to predict and develop employee job fit and performance in any sales, service fulfillment, customer service and operational line-leadership role.
"Logi-Serve is breaking new ground in predicting job fit and employee performance for organizations of any size," explains Eric Krohner, Logi-Serve CEO. "For example, Logi-Serve On Demand Employee Assessment solution merges proven science with financial modeling, driving measurable performance that organizations care about. Through the introduction of our on-demand platform, we are now able to provide businesses that use SAP solutions with an easy-to-use, engaging turnkey and low-cost employee assessment system to improve job fit and employee performance."
Using the Logi-Serve On Demand Employee Assessment solution, companies can build their own employee assessments in just a few simple steps and:
Predict job fit
Increase productivity
Reduce costly employee turnover
Identify an applicant's or employee's competency strengths and areas for improvements
Build a lasting culture of efficient performance
Advanced assessment science has never been this easy to use.
The SAP App Center provides customers with real-time access to more than 1,900 innovative partner solutions that complement and extend their SAP solutions, enabling the digital transformation of their business. SAP App Center customers can buy solutions directly from partners and centrally manage purchases, billing and vendor communications.
Logi-Serve, LLC is an integrated partner in the SAP® PartnerEdge® program. As such, it is empowered to build, market and sell software applications on top of market-leading technology platforms from SAP. The SAP PartnerEdge program provides the enablement tools, benefits and support to facilitate building high-quality, disruptive applications focused on specific business needs — quickly and cost-effectively. The program provides access to all relevant SAP technologies in one simple framework under a single, global contract.
About Logi-Serve, LLC
Logi-Serve is rapidly distinguishing itself as the market's leading assessment innovator for companies seeking to predict customer service ability, enhance customer experiences, increase sales, build a culture of sales and service excellence and assess line leadership potential. Through patent-pending science and tools that pose questions based on a role-playing activity, its use of advanced response-gathering technology and a validated competency framework, Logi-Serve offers the market's most direct link to predicting and shaping business outcomes. For more information, please visit the Logi-Serve website at www.logi-serve.com. For small businesses looking to take advantage of science and technology to improve hiring and development decision-making, visit Logi-Serve On Demand at https://ondemand.logi-serve.com.
# # #
SAP and other SAP products and services mentioned herein as well as their respective logos are trademarks or registered trademarks of SAP SE (or an SAP affiliate company) in Germany and other countries. All other product and service names mentioned are the trademarks of their respective companies. Please see http://www.sap.com/trademark for additional trademark information and notices.
For more information, press only:
sales@logi-serve.com or call 800-696-0403
Source: Logi-Serve, LLC
Share:
---
Categories: Human Resources
Tags: customer service, employee assessment, job fit, on-demand, predictive assessment, recruiting, SAP, turnover
---