Lofree Unveils the Lofree Flow, the Smoothest Mechanical Keyboard
Press Release
•
May 30, 2023
The World's First Low-Profile Keyboard With Kailh Full POM Switch & Gasket Mount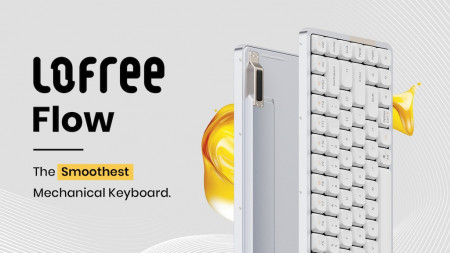 HONG KONG, May 30, 2023 (Newswire.com) - Lofree, the renowned innovator in keyboard design, is thrilled to announce the highly anticipated launch of its latest masterpiece, the Lofree Flow. As the world's first low-profile keyboard featuring Kailh Full POM Switch and Gasket Mount design, the Lofree Flow revolutionizes the typing experience with its exceptional smoothness and advanced features. The official launch of this groundbreaking keyboard is set to take place May 30 on Kickstarter.
The Lofree Flow sets a new standard in keyboard technology, combining the highly acclaimed Kailh Full POM Switches and innovative Gasket Mount design. The Kailh Full POM Switches offer an unprecedented level of smoothness, allowing users to enjoy a truly seamless and responsive typing experience. Coupled with the Gasket Mount design, which reduces vibrations and enhances stability, the Lofree Flow ensures every keystroke is precise, satisfying, and effortless.
Designed to impress both in performance and aesthetics, the Lofree Flow features an all-aluminum design that exudes elegance and durability. Its slim and sleek profile adds a touch of sophistication to any workspace while the ultra-thin construction enhances portability without compromising on quality. The keyboard also offers the flexibility of wireless or wired connectivity options, making it compatible with both Mac and Windows operating systems.
Versatility is at the core of the Lofree Flow's design. The hot-swappable functionality allows users to easily change switches without soldering, enabling customization and experimentation with different switch types to suit individual preferences. The RGB sidelits illuminate the keyboard with a captivating array of colors, creating a visually stunning ambiance that can be personalized to match any mood or style.
"We are proud to introduce the Lofree Flow, the smoothest mechanical keyboard designed to elevate the typing experience to a whole new level," said Ken Jiang, spokesperson for Lofree. "With its unique combination of Kailh Full POM Switches, Gasket Mount design, and exquisite craftsmanship, the Lofree Flow offers an ever-smoother feel over time, ensuring our users enjoy an unparalleled typing experience that enhances their productivity and creativity."
The Lofree Flow will be available on Kickstarter starting on May 30 at 9 a.m. ET. Early backers will have the opportunity to secure their unit and enjoy exclusive promotional offers. For more information and to experience the next generation of typing, visit https://bit.ly/3oBBNpc.
About Lofree:
Lofree is a lifestyle brand created by a group of brainy designers. Our founder and designer Tim Chu has 20 years of experience designing more than 150 electronic products in the keyboard and related consumer electronics businesses. We clearly understand the group of people who value their own loved space. Lofree develops interesting and professional products to inspire like-minded people to build their styled 2m² space at fingertips, chasing away the boring life. After the great popularity of mechanical keyboard series of DOT typewriter, TOUCH PBT, and 1% Transparent, FLOW will lead you to a new state of typing experience.
Source: Lofree
Tags