Local Tucson Little League Launches Throwing Safety Project
Press Release
-
Mar 10, 2016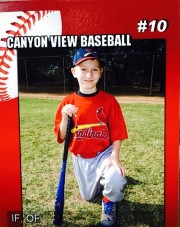 Tucson, Arizona, March 10, 2016 (Newswire.com) - Canyon View Little League (CVLL) announces they have taken strides this year to combat the growing number of arm injuries in baseball and softball players. Part of those prevention efforts will take place this Saturday during their opening day celebration at Mehl Park in Tucson, AZ.
Dr. Jennifer Allen (CVLL Safety Officer, & Mom to a CVLL baseball player) says, "This year we are expanding our safety efforts in regards to youth baseball and softball injuries. Part of that plan includes additional education for our coaches, players, and parents. Prevention of elbow and shoulder overuse is key- we are seeing way too many young players end up with injuries and having surgeries that are seen in professional level players."
Jonathan Favre (CVLL President and father of 3 CVLL Players) added, "Player safety is of utmost concern for Canyon View Little League. With over 400+ baseball and softball players we must properly equip and instruct our players on the correct way of playing this game we love so much. With the right guidance from our coaches and professionals like Jennifer Allen- we're moving in the right direction."
In addition to providing free Spring Training skills clinics for coaches and players this year, Canyon View Little League has partnered with Bodycentral Physical Therapy to provide pre-season injury prevention screenings for all of their baseball and softball players. Each player will be screened for limitations in motion and strength that may put them at risk for injury. Following the screen, the player and parents will receive specific feedback and advice on how to be healthy and fit for baseball or softball based on his or her specific findings.
About Canyon View Little League: Canyon View Little League provides boys and girls the opportunity to play baseball and softball in a friendly, yet competitive learning environment.  Located at Mehl Park in Tucson, Arizona, CVLL is home to 8 divisions of baseball and 5 divisions of softball. www.CanyonViewLL.com
About Bodycentral Physical Therapy: Bodycentral is a full service physical therapy and sports medicine private practice in Tucson, AZ with multiple locations throughout the city. For information www.BodycentralPT.net
Share:
---
Categories: Healthcare, Sports, Fitness, and Recreation, Child Sports
Tags: baseball, elbow pain, injury prevention, Physical Therapy, Pitchers, softball, youth sports
---