Local Toy Store Doesn't Play Around With Homelessness
Press Release
•
Mar 7, 2016
Cloud 9 Children's Toy Shop helps combat homelessness in Hollywood at the Volunteer Ministers Community Disaster Preparedness Fair.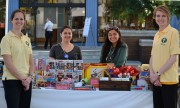 Los Angeles, CA, March 7, 2016 (Newswire.com) - With homelessness on the rise and the L.A. mayor recently declaring a state of emergency on the subject, local churches, businesses, community groups and L.A. city services came together 27 February to help with this urgent issue at the second annual disaster preparedness fair, organized by the Scientology Volunteer Ministers of Southern California at the Church of Scientology of Los Angeles.
Local businesses donated products and services for a raffle, with all proceeds from ticket sales to benefit Family Promise of the Verdugos, a nonprofit group that helps homeless and low-income families achieve sustainable independence through community-based response.
When Ana and Elisa Zepeda, owners of Cloud 9 Children's Toy Shop, heard about the community fair, they immediately wanted to participate, saying, "This is a really great opportunity for us to be part of the local community and it supports a great cause—ending homelessness."
Cloud 9 Toys, located at 4649 Russell Ave in Los Angeles, graciously donated toys and a gift certificate to the raffle and also set aside a percentage of the sales at their booth for Family Promise.
This was the second annual Scientology Volunteer Ministers Disaster Preparedness Fair. Its primary purpose was to help local residents learn what to do if disaster strikes. Workshops included Preparing for Earthquakes, conducted by the L.A. Fire Department and How to Prepare for Civil Unrest, conducted by the L.A. County Sheriff's Office.
The Volunteer Ministers are a global force, comprised of people from all cultures and walks of life who are committed to helping others. The Los Angeles Chapter responds to and helps the local community and is supported by the Church of Scientology of Los Angeles. To find out more about the Volunteer Ministers, visit www.volunteerministers.org or call Damian Kevitt, Regional Coordinator, at 213-514-2651.
Related Media
Additional Links