Local Inventor Solves Chicago Neighborhood Rodent Problems
Ingenious, easy-to-use and effective garbage lid cover now available to Chicagoland residents.
Press Release
-
updated: Nov 8, 2017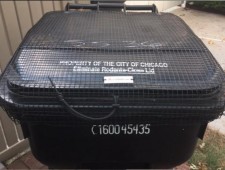 CHICAGO, November 8, 2017 (Newswire.com) - Introducing the Vintopper: The durable garbage can cover that makes pests a thing of the past.
Urban areas are plagued with rodents. In some cases, the ratio of rodents to people is as high as 4:1. With rodents comes damage to buildings and other infrastructure, as well as the spread of dangerous microorganisms — and disease.
Recently, one Chicago man said: Not in my neighborhood.
"Rodents are a terrible problem, and not just in Chicago," says Vince Ehrenberg, a Chicagoland native. "Rats and squirrels are the biggest culprits. I tried wood, plexiglass and bricks to keep them out of my garbage, but nothing worked — until I invented something new."
The Vintopper is made of galvanized steel and zinc, a metal naturally toxic to rodents, and it fits easily over conventional exterior garbage can lids and simple to use. Best of all: It works.
"The Vintopper can save money, but it also keeps our cities cleaner. It's cost efficient, it's pre-cut and takes 30 seconds to put onto your garbage can," says Ehrenberg.
Here's what Chicagoans are saying about the Vintopper:
"The Vintopper has made the rodent problem non-existent! Our Chicago neighborhood has been plagued by rodents for as long as I can remember. Within days of placing the Vintopper over my container lid, I tested the device by placing meat leftovers in the pail. The squirrels did not make a dent!" - Peter, Chicago
"It's easy to install and use, sturdy, and rodent-proof! For years I've had problems with rodents getting into my garbage cans and eating holes in the tops and sides. I've gone through three garbage cans in two years and needed a quick solution. I will never own a garbage can without installing a Vintopper!" - Jennifer, Chicago
Today, the Vintopper is available to residents in the Chicagoland area.
Discussions about delivery to other U.S. cities are now underway, along with talks with community leaders about this effective and cost-efficient community solution to serious — and expensive — rodent issues.
Contact Vintopper today to stop rodents from destroying your community at Vintopper@gmail.com.
About Vintopper
Vince Ehrenberg is a long-time businessman who's worked at the Chicago Board of Trade. He also holds a real estate license and is dedicated to his work as an inventor, solving problems with simple, effective solutions. A family man, Vince and his wife are raising their four children in Vince's hometown on the north side of Chicago.
VINTOPPER: "When it comes to trash, we've got you covered"
www.Vintopper.com
For more information, contact:
Vince Ehrenberg
E-mail: Vintopper@gmail.com
Source: Vintopper
---
Categories: Town and City Government, Home Improvement and Renovations, Urban Living, Local News, Production and Manufacturing
Tags: animal resistant, garbage can, rodent proof, rodent proof trash can, squirrel proof, trash can
---