Local Copywriter Uses Psychology to Enhance Digital Marketing Initiatives
Press Release
•
updated: Apr 13, 2017
As the new Copywriter at DaBrian Marketing Group, Christian H. Kline uses his expertise in psychology to write content that connects with digital users.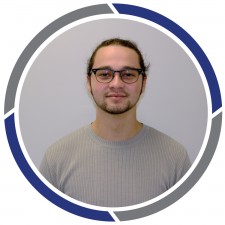 Reading, PA, April 13, 2017 (Newswire.com) - DaBrian Marketing Group hires Christian H. Kline as their full-time Copywriter. In his new role at the agency, Kline utilizes his knowledge of human behavior to write helpful content for each client's target audience.
His copywriting position at DaBrian Marketing allows Kline to create digital content that combines both industry-specific research as well as rhetorical techniques to match consumers' needs. Kline determines the motivations and probable behaviors of users to encourage interaction within digital content. He creates visions and concepts that guide the intended audience to the client's desired goals and objectives. After the creation of written content for websites, email marketing campaigns, or advertising networks, Kline analyzes that content's performance through Google Analytics and other platforms that rely upon knowledge of descriptive and inferential statistics.
I am thankful to be a part of the team at DaBrian Marketing; I enjoy applying the dynamics of human behavior and cognition to collaborate with both the Creative and Marketing departments.

Christian H. Kline, Copywriter
Content marketing is significantly involved in every aspect of the digital campaigns at DaBrian Marketing. As a result: Kline's mission is to express a consistent, universal message through any and all marketing initiatives that contain creative material. Specifically, Kline collaborates with the Creative Director, Mark Mapp, and the Web Designer, Nick Davies, in order to ensure that campaigns offer users relevant, action-oriented narratives. Throughout all of the assets that he writes, Kline understands that words, photography, and graphic design compose each user's experience with creative material.
Kline also notes the importance of collaboration with the Marketing department to ensure that consumers receive digital content in the most advantageous contexts: "I am thankful to be a part of the team at DaBrian Marketing; I enjoy applying the dynamics of human behavior and cognition to collaborate with both the Creative and Marketing departments."
Christian H. Kline graduated from the Temple University Honors Program with a Bachelor of Arts degree in Psychology. Courses such as Social Cognition, Industrial/Organizational Psychology, Advanced Undergraduate Statistics, Psychology of Creativity, and Cognitive Psychology prepared him for creative work at DaBrian Marketing Group.
Kline had his first taste of agency-life in the summer of 2016 as an intern at DaBrian Marketing Group. As the Content Marketing Intern, he wrote promotional emails, paid search ads, and web pages for both DaBrian Marketing and clients. Additionally, Kline filmed several of DaBrian Marketing's promotional videos. During his free time outside of the office, Kline cooks, spends time with his friends, family, and dog, as well as conducts part-time psychological research at Penn State Berks.
Find more information about Christian H. Kline by reading his bio on DaBrian Marketing Group's website.
About DaBrian Marketing Group, LLC
Founded in 2008, DaBrian Marketing Group, LLC is a full-service digital marketing agency that provides original and strategic digital marketing solutions for businesses. The team at DaBrian Marketing creates brand awareness, increases lead-generation, and identifies insights that improve sales growth. Services include web analytics, creative design, digital branding, pay per click (PPC) advertising, search engine optimization (SEO), social media marketing, and web design. Company headquarters is centrally located at 500 Penn Street, Suite 201, Reading, Pennsylvania 19602. For more information about DaBrian Marketing Group, visit DaBrianMarketing.com or call 610.743.5602.
Source: DaBrian Marketing Group, LLC
Related Media
Additional Links