LMI Technologies Launches New Gocator® 3D Smart Sensor for Scanning Glass and Other Specular Surfaces
Press Release
•
updated: Mar 19, 2019
The Gocator® 2512 laser line profiler is precision-engineered for scanning specular surfaces such as glass, polished metals and plastics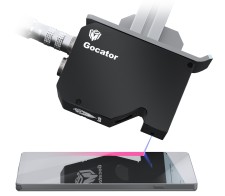 VANCOUVER, British Columbia, March 19, 2019 (Newswire.com) - LMI Technologies Inc., a leading developer of 3D scanning and inspection solutions, is pleased to announce the launch of the Gocator® 2512 laser line profile sensor, a dedicated high-performance 3D machine vision solution for scanning glass and other specular surfaces. The company will be introducing the new sensor in booth #W5 5621 at Vision Shanghai March 20-22, 2019.
Gocator® 2512 has the unique advantage of being able to scan specular and diffuse surfaces simultaneously. For example, the sensor can generate a precision 3D scan of a cell phone's cover glass in a surrounding metal or plastic frame, inspecting critical assembly tolerances such as flushness, gap and offset.
The sensor leverages specialized laser projection technology that can handle a wider range of surface angles, material types and surface colors. Competing laser profilers use a collimated laser beam that does not offer the same target angle performance.
Gocator® 2512 also delivers high-speed, reliability and superior data quality in GD&T measurement of component assemblies with various challenging surface finishes (e.g., transparent, anti-glare, coated/uncoated, low/high contrast, UV and glossy).
"With the Gocator® 2512, we now offer our customers a dedicated 3D sensor model specifically for glass and specular materials, with all of Gocator's smart capabilities including onboard data processing and built-in measurement tools. The sensor's unique optical design delivers exceptional performance in challenging specular scanning applications in a more cost-effective package than competing technologies such as confocal scanners," said Chi Ho Ng, senior director of applications, LMI Technologies.
Gocator® 2512 smart 3D laser line profilers are now available for order. Email contact@lmi3d.com or visit the Gocator® 2512 product page to find out more. If ready to purchase, email orders@lmi3d.com.
About LMI Technologies
At LMI Technologies we work to advance 3D measurement with smart sensor technology. Our award-winning, FactorySmart® solutions improve the quality and efficiency of factory production by providing fast, accurate, reliable inspection solutions that leverage smart 3D technologies. Unlike contact-based measurement or 2D vision, our product removes complexity and dramatically reduces implementation cost.
To learn more about how LMI's inspection solutions can benefit business, contact us at contact@lmi3d.com or visit us at www.lmi3d.com to explore the possibilities of smart 3D technology.
Media Contact:
Kassandra Sison
Global Marketing Manager
LMI Technologies
Tel.: +1 604 636 1011
E-mail: ksison@lmi3d.com
Source: LMI Technologies Inc.
Related Media
Additional Links