Living Security Introduces First-of-Its-Kind, Enterprise-Ready Scavenger Hunt for National Cybersecurity Awareness Month (NCSAM)
Press Release
-
updated: Apr 4, 2019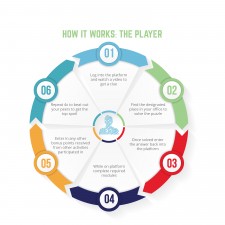 AUSTIN, Texas, April 4, 2019 (Newswire.com) - Living Security - the provider of the world's most immersive cybersecurity awareness training - announced today that they are releasing brand new training engagements called Cybersecurity Scavanger Hunts to help reimagine security for people. The Hunts are designed as data-driven, scalable versions of Living Security's wildly successful Cybersecurity Escape Rooms.
The Cybersecurity Scavenger Hunt is built upon Living Security's game-based learning platform, and is guided by a live-action, fictional storyline. Once the hunt begins, participants will get out of stuffy offices and desks to search and secure their workspaces, track down the locations of different challenges and solve cybersecurity themed puzzles: such as identifying suspicious elements of a phishing scam hidden somewhere in their midst. The Hunt also leverages traditional security awareness training modules, giving enterprises the ability to train on specific cybersecurity topics, such as Mobile and Travel security.
Beyond the physical puzzles and training modules, the Cybersecurity Scavenger Hunt gamifies all other parts of a security awareness campaign by providing one central repository for point-collection and incentivization. Meaning, the platform encourages enterprise organizations to assign points to any other National Cyber Security Awareness Month (NCSAM) activity (e.g. lunch and learns, blog posts, phishing assessments) and optimize maximum participation through intrinsic and extrinsic motivators.
"For non-technical people, cybersecurity can feel intimidating – which is why I am very excited to help bridge that gap with an immersive, scalable training game for all," said Drew Rose, chief security officer, Living Security. "People want to care, but typical security awareness training content merely perpetuates the status quo and sadly does not build a strong culture of empowered decision making. This scavenger hunt, with its live-action storyline, physical interactions and full program immersion is the catalyst needed to point any training program in the right direction."
To learn more about The Living Security Scavenger Hunt, contact sales@livingsecurity.com.
About Living Security
Living Security is dedicated to providing game-changing security awareness training to employees through real-world experiences with their Escape Room, training platform and their recently launched scavenger hunt. Living Security's innovative approach to security awareness training enables companies to track and measure the effectiveness of their programs and provides a collaborative and hands-on approach to reducing corporate cybersecurity risk.
Source: Living Security
Share:
---
Categories: IT Security
Tags: Austin, Cyber Security, Online Training, Security Awareness Training
---