Lively Expands to Augmented Live Video Chat
Press Release
•
updated: Jun 28, 2017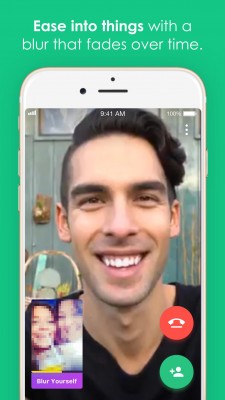 San Francisco, California, June 28, 2017 (Newswire.com) - Lively, a video-based social app, today announced the release of augmented live video chat that makes it easier to connect with people and instantly start chatting. Unlike the rest of the Lively app, that uses dynamic video profiles to help people match up, the new video chat experience expands beyond just dating. Instead, users on the app can now meet and have interesting conversations with men and women of various backgrounds and ages (18+).
"We think what a lot of users want is a way to meet new people that's fun, easy, and fast," explained Zoosk's SVP of Product Behzad Behrouzi.
"We think what a lot of users want is a way to meet new people that's fun, easy, and fast."

Behzad Behrouzi, SVP Product
In a study conducted by Lively, Lively found that only 35 percent of people reported using dating apps to find a significant other, compared to 50 percent who said they just wanted to meet or connect with new people. To address this need, Lively's newest feature is much more about discovery and exploration than matching and dating.
The original version of Lively, now known as Lively Classic will remain on the app and can still be used for dating. With the new Lively app, users can use both Lively Classic or the augmented live video chat experience.
In the new experience they'll:
Pick a topic they'd like to talk about and instantly be connected with another person who'd like to chat.
Start the conversation with a camera that's heavily blurred, with the blur going away over time.
Have the option to keep adding the blur back, in case they wish to remain hidden.
Have the option to add the other person to their friends list if the conversation goes well.
"After talking to some of our users, we found that 80 percent of them wished they could talk freely with others without worrying about how they look or how others will perceive them," said Behrouzi while explaining the reasoning behind the new blur augmentation. "We want people to focus on the content of their conversations, rather than how they look or if they're in the right lighting. This new feature allows them to do that."
Augmented live video chat is one way Lively hopes to make it easier for people to have a meaningful interaction more quickly, and moving forward Lively hopes to create even more ways for users to connect using various forms of augmentation.
"Lively is about creating fun ways to help people connect, not just match," said Behrouzi. "We're hoping to create an overall experience where people can feel more relaxed being themselves, and more excited to meet and get to know other people."
Since its initial launch in the San Francisco Bay Area in July of 2016, Lively has gone nationwide. It's now available in the App Store for download at: https://itunes.apple.com/us/app/lively-dating-app-to-meet/id1041570772?mt=8
About Lively
Lively is a video-based social experience that allows users to connect instantly with one another through live video chat. Since its launch in July 2016, Lively has gone beyond static images and text, to help people get to know each other through creative videos that help them share more about themselves. Lively is the first offering from Zoosk Labs, an in-house incubator that signals the company's commitment to innovation and expansion into new areas and demographics.
Zoosk, the Zoosk logo, Lively, Lively Classic and the Lively logo are trademarks or service marks of Zoosk, Inc. App Store is a service mark of Apple Inc. All other trademarks, service marks or names mentioned are the property of their respective owners.
Source: Zoosk
Related Media