Live Webinar: Implementing an IBP Culture at GEON to Improve Profitability and Drive Growth
Press Release
•
Oct 11, 2022
Global Manufacturer of Performance Polymer Solutions Establishes an Integrated Plan Focused on Profitability and Collaboration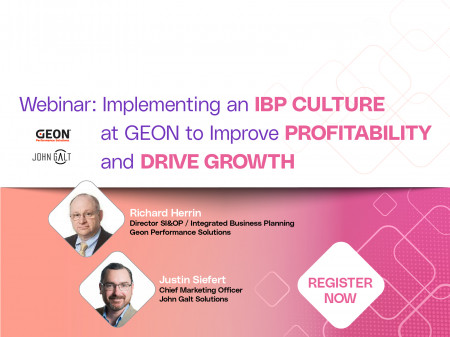 AUSTIN, Texas, October 11, 2022 (Newswire.com) - John Galt Solutions, automating supply chain planning to empower business leaders to make better decisions faster, in collaboration with SupplyChainBrain, will present the live webinar, "Implementing an IBP Culture at GEON to Improve Profitability and Drive Growth" on Oct. 18, featuring Richard Herrin of GEON Performance Solutions and Justin Siefert of John Galt Solutions.
A global leader in the formulation, development and manufacture of performance polymer solutions, GEON Performance Solutions will share its Integrated Business Planning (IBP) journey and challenge the audience to assess their degree of true integration between supply chain and finance teams.
GEON Performance Solutions has established a renewed focus on cash flow and margins to eliminate waste and unlock new value by managing working capital more effectively, leading to the transformation of its S&OP/IBP process. At the heart of GEON Performance Solutions' IBP journey is a shift to an integrated plan focused on profitability and cross-functional collaboration.
During the session, Richard Herrin, Director SI&OP / Integrated Business Planning, will share insights about GEON's key steps to evolve its planning capabilities, including the catalyst that sparked the transformation, the impact of focusing on cashflow and profitability versus volume, lessons learned along the way, and next steps for the global manufacturer.
Session at a Glance
Title: Implementing an IBP Culture at Geon to Improve Profitability and Drive Growth
Speakers: Richard Herrin, Director SI&OP / Integrated Business Planning, Geon Performance Solutions, and Justin Siefert, Chief Marketing Officer, John Galt Solutions.
Moderator: Helen Atkinson, Senior Editor, SupplyChainBrain
When: Tuesday, 18 October, 2:00 PM ET
Register at: https://us06web.zoom.us/webinar/register/8216624673664/WN_14QlznpKT06R4bA-IjpwPA
To learn more about the Atlas Planning Platform, please visit johngalt.com/atlas.
About John Galt Solutions
More than ever, companies must be able to sense and respond to the dynamics of complex global supply chain performance, seize new opportunities, reduce costs, and drive profitability. John Galt Solutions' Atlas Planning Platform provides a comprehensive end-to-end supply chain planning solution with advanced analytics and machine learning to automate planning, break down business silos and deliver greater visibility. Atlas Planning, a SaaS-based platform, transforms S&OP processes; demand, inventory, and replenishment; manufacturing planning and scheduling; distribution, allocation, and transportation planning; financial budget and sales forecasting. We partner closely with companies such as MARS, Continental Tire, Milwaukee Tool, Deschutes Brewery, Organic Valley, Netgear, and American Red Cross to empower planners to make better and faster decisions with greater confidence. To learn how John Galt Solutions can help you improve supply chain performance, visit johngalt.com.
Source: John Galt Solutions