Live Story Partners With the BigCommerce Experts, Calashock Commerce
Press Release
•
Nov 22, 2022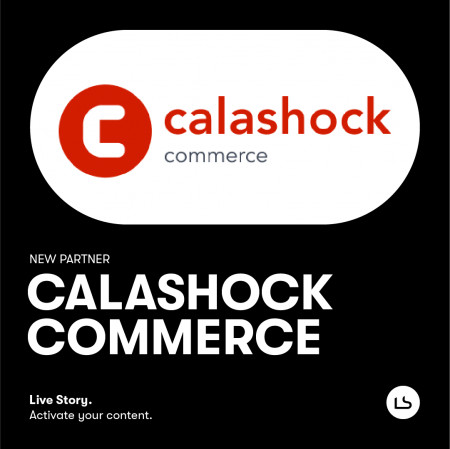 NEW YORK, November 22, 2022 (Newswire.com) - Live Story, a next-gen creative design platform, has massive news as it allies with one of BigCommerce's first Elite Partners in Calashock Commerce. With over 13 years of platform experience, the award-winning agency is the newest to a growing list of campaign members in the Live Story Partnership Program.
Live Story will aid Calashock's clients in rapid design capability growth without being burdened by technological complexities. Calashock will leverage Live Story's BigCommerce app, which lets professional teams amplify their creative capabilities on the solid foundation of its growing cloud-based e-commerce platform. Live Story's BigCommerce app will benefit the agency and its clients by reducing development time and delivering more familiarity and advancement natively and at scale.
The London-based agency has operations across Europe and North America and specializes in helping merchants to accelerate their growth with stunning e-commerce transformations.
"Live Story is a fantastic platform with really exciting creative capabilities that will help our merchants turn their content into engaging stories to boost engagement and conversion. We are really excited to be partnering with them and bringing this fantastic solution to our clients," said Luigi Moccia, founder and CEO of Calashock.
"We are excited to work with Calashock, who pioneered the development of online business established on BigCommerce. Their track record speaks for itself. This collaboration will put us in front of companies who need to take that next step in leveling up their content creation game. We truly look forward to helping them design boundless experiences online," said Maurizio Marchiori, president of Live Story.
—
Live Story is a boundless Creative DXP (Digital Experience Platform). Its freehand designable editor makes it easy to create layouts and publish them online in no time. Finally, a no-code design solution that delivers multi-platform integrations with speed and dependability for professional teams.
We are Award-winning BigCommerce experts. With operations across Europe and North America, we specialise in helping merchants to accelerate their growth with sensational ecommerce transformations. We work with B2C and B2B clients with particular expertise in the unique and complex requirements of B2B merchants. Not just a BigCommerce Elite Partner, but also one of the first, having grown together with the platform since the very beginning, in 2009. With years of experience working exclusively with BigCommerce, our team has unparalleled platform expertise. We build bespoke sites that are beautiful, intuitive and maximise return on investment.
Source: Live Story