Live in an Actual Movie Theater? Social Apartments Make Wishes Come True in Tokyo, Japan.
Japanese developer Global Agents opened the first cinema-themed property in Japan.
Press Release
-
updated: Nov 8, 2018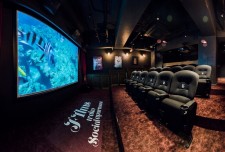 TOKYO, November 8, 2018 (Newswire.com) - Japanese real estate developer Global Agents opened FILMS WAKO, a new shared apartment that features a fully functional movie theater in Wako, Saitama Prefecture, on October 20. The company has been rapidly expanding across Japan to respond to the growing demand for their new lifestyle accommodations, and FILMS WAKO is the first co-living apartment in Japan to feature an authentic home-experience on par in scale and design with an actual movie theater.
Global Agents endeavored to create a unique property that could connect all 123 residents through a central theme. Interaction is a core ideal that serves as the foundation for each of the company's properties, but they ultimately decided on cinema for FILMS WAKO because of its near-universal appeal and ability to connect people on an emotional and artistic level. The result is perhaps their most focused and grand offering yet.
They have made the dream of having an actual cinema at home a conceptual reality. The centerpiece of the property is a 40-square-meter theater space with 16 industry standard movie seats, the same ones found in new high-end movie theaters. Also, sporting an enormous 150-inch screen coupled with an industrial grade 4K EPSON projector and a 7.1 channel JBL surround sound system, the experience has never been more real. Residents also have access to 4K Apple TV, a PS4 Pro and are able to connect their own electronic devices to watch any film they like or use the space for gaming as well. In the digital age where people enjoy films and videos in the comfort of their own home, they created a new way to watch films in privacy while maintaining a real cinema experience.
In addition, the main lounge space is a staggering 120 square meters and showcases a kitchen counter modeled after a cinema ticket booth while the walls feature artworks with quotes from famous movies. Residents can also socialize around the billiard table or one of the many video game consoles available. Other shared facilities include a spacious Working Lounge with free Wi-Fi for studying or working at home, and a Fitness Studio, ideal for yoga enthusiasts, dancers, or just anyone trying to fit a workout into their busy schedule. Another new and unique feature available in the property is the Photo Studio. With studio lights and a white backdrop free to use, this is the perfect place for the many artists and creators living at Social Apartment to unleash their creativity.
FILMS WAKO is Global Agents' second and biggest property in Wako with 123 available rooms. Wako itself is an up-and-coming area in Tokyo-adjacent Saitama Prefecture that offers convenient and direct access to the popular inner suburbs of Tokyo. It only takes 13 minutes to get to Ikebukuro and 24 minutes to Shibuya from Wakoshi station.
Global Agents CEO Takeshi Yamasaki notes, "This was certainly our most ambitious and challenging project. Not only finding a theme that could appeal to everybody, but we also wanted to push the market forward and offer a truly new and unique experience to our tenants. Well, we've made it! We are the first in Japan to do it. We'll always keep pushing forward boundaries of social lifestyle accommodations. We strive to create unique spaces that facilitate dialogue and exchange among our residents. We are not just looking to fill rooms, but to create genuine communities inside of our properties. That's what separates us from the rest."
Global Agents' Social Apartment brand is the leading lifestyle accommodation in Tokyo. They currently have plans to open several new properties and hotels across Japan in 2019, and currently planning to expand overseas in a very close future.
Source: Global Agents
Share:
---
Categories: Hospitality, Accommodations and Lodging
Tags: apartment, cinema, films, guest, house, japan, movie, share, social, theater, tokyo, wako
---