Little League Softball World Series Swings Into Town
Press Release
•
updated: Jul 20, 2017
Young athletes from around the world travel to Alpenrose Dairy in hopes of becoming champions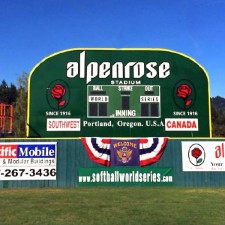 PORTLAND, Ore., July 20, 2017 (Newswire.com) - Starting August 7th, the best young athletes from around the world will gather at Alpenrose Dairy stadium in the pursuit of becoming Little League Softball World Champions. The Softball Little League World Series is a 31-game series with four teams from visiting countries and six teams representing U.S. regions. The four world teams are Europe/Africa, Canada, Latin America and Asia Pacific. The six U.S. teams include West, East, Southwest, Southeast, Central, and the host team, Oregon District 4.
For the 24th consecutive year, the Little League Baseball International Board of Directors chose Alpenrose Dairy in Portland, Oregon as the site for the 2017 Little League Softball World Series the week of August 9th-16th.
"Alpenrose Dairy started hosting the Little League World Series in 1994 and we are proud to keep that tradition going today," said Carl Cadonau Jr., President of Alpenrose Dairy. "It's part of who we are; as a locally owned company and members of the community. Promoting healthy choices is part of the Alpenrose brand and we are happy to support these young athletes."
Teams begin arriving Monday, August 7th and on the 8th teams will kick-off the games with an Opening Ceremony celebration. Game one Canada vs. East starts Wednesday, August 9th at 10 a.m. The World Championship game is on Wednesday the 16th at 6:00 p.m. and will be broadcast live on ESPN2. A special Challenger Game will be played on Saturday the 12th at 12:30 p.m. Kids with special needs will take the field and get to enjoy the full benefits of participating in a team sport and maximize their potential and abilities. Admission to the week-long event is free. For more information and complete series schedule go to http://www.llsws.org.
Come cheer on your favorite team! This is a free event and open to the public. Alpenrose Dairy is located at 6149 Southwest Shattuck Road in Portland.
About Alpenrose Dairy
Alpenrose Dairy has been family owned and operated since 1916. For over 100 years, the Cadonau family has been committed to bringing customers the finest milk nature can provide. All Alpenrose products are locally farmed with no added rBST hormones and pasteurized at lower temperatures to keep natural vitamins and minerals intact. Alpenrose is committed to sustainable agriculture and bringing fresh, wholesome products to their customers. The Cadonau family is known throughout the Northwest for their commitment to the community. Providing year-round family-friendly activities at their legendary 52-acre campus with a stadium for little league games, a museum, opera house, and velodrome track.
###
Source: Alpenrose Dairy