LitRPG Forum: New Home for Ready Player One Fans
As the popularity of LitRPG books continues to grow, new communities like LitRPG Forum are popping up to fill the demand of hungry fans
Press Release
-
updated: May 17, 2017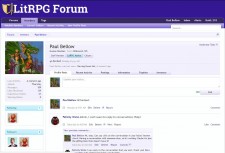 INDIANAPOLIS, Ind., May 17, 2017 (Newswire.com) - Paul Bellow, LitRPG author and publisher, recently launched LitRPG Forum, a site dedicated to the burgeoning fiction genre that blends science-fiction and fantasy flawlessly. 
Inspired by Ready Player One, Awaken Online, Delvers LLC, The Land and other great LitRPG books, Bellow started the LitRPG Forum with various gamification elements. He hopes that authors like Travis Bagwell, Blaise Corvin, and Aleron Kong, all leaders in the genre, become members. 
While only a week old, LitRPG Forum has already attracted dozens of members. From comic artist Andi Ewington to voice narration artist Jeff Hays to other LitRPG authors and fans of the genre, many people are gathering to form a new community. 
"Some experts track the origins of the genre as far back as the mid-1980s, but its initial popularity indeed peaked with the arrival of The Legendary Moonlight Sculptor."
"I knew Facebook groups already existed for LitRPG authors and fans, but I wanted to take things to the next level," Bellow said.
"The gamification of LitRPG is the next logical step in the genre's evolution."
The term LitRPG was coined by three Russian writers nearly a decade ago. D. Rus, V. Mahanenko and D. Mikhailov worked on anthology called "LitRPG." EKSMO, Russia's biggest publishing house, published the book.
Ready Player One by Ernest Cline came out in 2011, a novel well received by many, introducing many new fans to the genre. A movie version of RPO, directed by Steven Spielberg, is due out in early 2018. 
At LitRPG Forum, gamification features like earning experience points (and gold) are already set up, but they're just the beginning. Bellow plans to grow the site with help from the community of LitRPG Fans new and old. 
Other features in the works include special virtual items that will allow readers to join Author Guilds on the website. There, fans will be able to interact directly with their favorite writers who are on the site. 
"I've had the idea to gamify a LitRPG community for a while," Bellow said. "I'm happy to have finally gotten around to building it. The feedback so far has been overwhelmingly positive."
Fans of Ready Player One and other LitRPG books will feel right at home at LitRPG Forum. Gamers and geeks of all flavors are welcome to join the quickly growing online community. 
Those who decide to sign-up and become members are warned to close their purse strings tightly and keep an eye on their virtual gold. Pickpockets abound in the virtual realm. 
Anyone interested in books about video games should stop by and browse or sign up for a free account. LitRPG Forum intends to blaze new trails as the genre grows even more. 
Media Contact: 
Paul Bellow
Phone: 4125326655
Email: kp@paulbellow.com
Source: LitRPG Forum
---
Categories: A&E News, Books, Video Games, Publishing and Printing, Lifestyles and Society, Culture
Tags: awaken online, delvers llc, ernest cline, gamers, gamification, litrpg, ready player one, RPG books, RPO movie, steven spielberg, sword art online, the land
---