Lisa Vanderpump's Dog Foundation Travels to China to Deliver Life Saving Medical Supplies to Yulin Rescues
Press Release
-
updated: Jul 5, 2017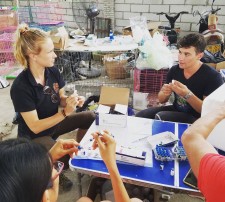 LOS ANGELES, Calif., July 5, 2017 (Newswire.com) - The Vanderpump Dog Foundation will travel to China to bring veterinary care and supplies to dogs rescued from the Yulin Dog Meat Festival.
Dr. John Sessa, Executive Director of The Vanderpump Dog Foundation will be leading a trip to China this week to deliver the medical supplies and set up medical relief areas for dogs rescued en route to the Yulin Dog Meat Festival, where 10,000 animals are slaughtered each year. Vanderpump Dog Foundation will provide the medical supplies that are gravely needed for the rescued dogs. Along with supplies, The Foundation will send a veterinary technician to assist The Foundation in administering care for animals intercepted from meat trucks.
The Wellness Tour will start in Ghaunzhou, China, where they will work with rescue groups who say veterinarians and medical supplies are in need. Dr. Sessa said, "these animals have been saved from a deadly situation, but still find themselves in dire need, injured and sick, without the supplies and hands needed to heal them."
Animal activist groups such as Humane Society International (www.hsi.org), Animal Hope and Wellness (www.animalhopeandwellness.org) and other activist organizations, have rescued thousands of dogs from trucks transporting to the Yulin Dog Meat Festival. They are now treating these dogs for various medical conditions. The Vanderpump Dog Foundation will locate these various groups' treatment centers to deliver supplies and medical care.
The Wellness Tour will then travel to Shenzhen, China, where the Foundation has partnered for the last year and a half with the Shenzhen Dog Protection Association to sponsor over 80 Chinese rescue dogs. There they will deliver supplies and examine the dogs in the shelter. The Vanderpump Dog Foundation anticipates more groups coming forward with medical and veterinary needs. Sessa and the Foundation representatives will remain in China through July 7, 2017, to locate and bring aid to these groups.
Raising awareness about The Yulin Dog Meat Festival, and working toward ending the atrocities happening annually, has long been one of The Vanderpump Dog Foundation's main focuses. The co-founder of the Foundation, Lisa Vanderpump, who has been passionate about ending the Festival said, "Through our legislative campaigns, our commitment to domestic and international awareness, and our rescue & rehabilitation efforts, we hope to end the barbaric torture once and for all."
To find out more or to contact The Vanderpump Dog Foundation, please visit www.vanderpumpdogs.org.
### ABOUT THE VANDERPUMP DOG FOUNDATION
The Vanderpump Dog Foundation is a 501c3 non-profit dog rescue organization, working on both a domestic and international front to help create a better world for dogs globally. Founders Lisa Vanderpump & Ken Todd began the long journey toward trying to stop the barbaric torture practices at the Yulin Dog Meat Festival and end the dog meat trade in Asia, in 2015. Together with their partner Dr. John Sessa, they launched the campaign Stop Yulin Forever, which ultimately led them to create The Vanderpump Dog Foundation. The movement gained momentum and has inspired activists all over the world to work toward ending the Yulin Dog Meat Festival and encourage more humane treatment of dogs worldwide.
The Vanderpump Dog Foundation was formed to not only aid in ending this international atrocity but to also better the lives of dogs domestically. The United States faces many problems of its own including dog overpopulation, abuse, neglect and lack of education with regards to spaying and neutering pets. With the opening of their new Vanderpump Dog Rescue Center in LA, The Vanderpump Dog Foundation aims to reduce these problems within California and beyond, as well as continue their national and international campaigns built on a platform of education, legislation, and activism.
Media Contact:
John Blizzard
​JBlizzard@VanderpumpDogs.org
The Vanderpump Dog Foundation:
8134 West Third Street, Los Angeles CA 90048
1-323-852–DOGS
Info@VanderpumpDogs.org
Source: Vanderpump Dog Foundation
Share:
---
Categories: Television, Arts and Entertainment, Animal Rights
Tags: animal, china, lisa vanderpump, Los Angeles, pet, reality tv, rescue, vanderpumpdogs, wellness, west hollywood, yulin
---