Lirpe Unveils the Future of Urban Mobility: Introducing the Lirpe R1, the 3-in-1 Electric Scooter
Press Release
•
Sep 5, 2023
Cutting-Edge Innovation Transforms Urban Transportation With a Fusion of Mobility, Power Dock and Solar Energy Integration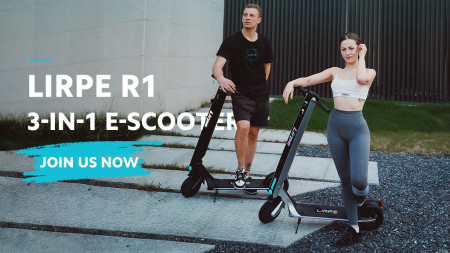 HONG KONG, September 5, 2023 (Newswire.com) - Lirpe R1, the world's first 3-in-1 electric scooter, was designed to revolutionize urban commuting and redefine the way we harness renewable energy. By seamlessly combining the functionalities of a road scooter, a portable power dock, and direct solar charge integration, the Lirpe R1 introduces a new era of eco-friendly transportation and sustainable energy utilization.
Key features and innovations that set the Lirpe R1 apart include:
Uninterrupted Power on the Go: This innovative electric scooter seamlessly integrates three essential functions — a road scooter for convenient travel, a portable power dock to charge devices on the move, and direct solar energy integration for sustainable power generation.
Portability at Its Zenith: Unlike traditional scooters, the Lirpe R1 features a streamlined design that allows all components except the scooter itself to be effortlessly stowed in a backpack.
Detachable Power Technology: Lirpe R1's detachable battery transforms into a dynamic 374Wh mobile power station. This feature ensures seamless connectivity during every adventure by empowering users with the ability to charge a wide range of devices from smartphones to laptops.
Harnessing Solar Power: Embrace the future of sustainable energy with the Lirpe R1's 100W solar power input. By capitalizing on the sun's energy, users can recharge the modular battery, significantly extending the scooter's range and reducing its environmental footprint.
Extended Commute With Ease: The Lirpe R1 is equipped with a potent 374Wh emergency power supply and 100W solar power integration, offering an impressive maximum range of 45 km. With enhanced commuting capabilities, this scooter caters to various transportation needs.
Empowered Speed and Performance: With a remarkable 220 lbs (100kg) of maximum payload capacity and the ability to reach speeds of up to 25 km/h, the Lirpe R1 thrives on its efficient 500W motor. This powerful motor ensures swift and effortless navigation through urban landscapes.
Enhanced Safety Features: The Lirpe R1 prioritizes rider safety with bright headlights and rear lights, illuminating the path and ensuring visibility on the road. The 10-inch large pneumatic tires and electric brakes provide exceptional stability, even on rough terrains.
Sustainability and Beyond: The Lirpe R1 is not just a scooter; it's a reimagining of product concepts that intertwine technology, human life, and nature. "At Lirpe, we are committed to transforming the commuting experience and enabling our customers to embrace eco-friendly transportation. Our latest offering, the Lirpe R1, marks a significant milestone in this journey," said Jacky Wang, Marketing Director of Lirpe.
Lirpe invites urban commuters and eco-conscious individuals to experience the pinnacle of electric mobility and renewable energy integration through the Lirpe R1. This transformative 3-in-1 electric scooter epitomizes Lirpe's dedication to innovation, sustainability, and enhancing the urban lifestyle.
For more information and to join the electric revolution, please visit https://www.kickstarter.com/projects/lirpe/lirpe-r1-pro-20-2-in-1-e-scooter.
Source: Lirpe