Lily Razz Introduces the Wild & Free Collection
The Wild & Free Collection is expected to generate buzz around the world as these home decor items are made with sustainable materials
Press Release
-
updated: Feb 26, 2018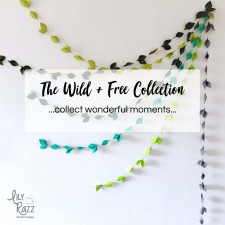 AMSTERDAM, February 26, 2018 (Newswire.com) - Zerlina Winkel from Lily Razz releases the brand new Wild & Free collection of home decor items. Each product is individually created by the designer herself. The Wild & Free Collection will be released on March 1, 2018.
Lily Razz is known for helping moms and their little ones dream happy.
For the first time, Zerlina has based an entire product line on her favorite and best-selling wall decorations, combined with popular customer requests she collected over time.  
The collection consisting of limited-edition products will be sold on LilyRazz.com and are likely to sell out before the end of the season.
These home decorations were designed to showcase boho yet modern aspects combined with cozy touches that make men and women feel they're collecting wonderful moments and adding good vibes to their home.
Several products come in lavender to capitalize on today's trends, and the use of natural materials and shades of green add a fresh feel to the collection. Zerlina also focuses on a "timeless feel" when designing her products. Adaptable to many spaces, you can rearrange or move them around so they will not outgrow you anytime soon.
All products are made with sustainable materials, like 100 percent wool felt, wood and recycled yarn. Buyers will be able to decorate and furnish their rooms and nurseries with eco-friendly decor, creating a home that will make them - and the earth - proud.
The Wild & Free collection also includes letterboard gift sets that can be updated and refreshed to every mood. The unique add-ons provide unlimited possibilities for personalization. A genuine medium for expressing oneself.
Each individual item in the Wild & Free collection has its own name. Examples are:
•     Sparrow    -           modern yet timeless bohemian wall hanging
•     Wish           -           letterboard gift set to create an accent piece for the home
•     Bloom        -           floral garland to use as everlasting spring decor
•     Grow          -           simple and elegant greenery garland to add fresh vibes
•     Dreamer    -           small macrame decor to add texture and color to a room
 The Wild & Free Collection ranges in price from €21.50 to €215.00.
Zerlina Winkel is excited to welcome her fans to her new handmade product line!
About Lily Razz
Zerlina Winkel started designing her current "Dream Happy" collection and founded Lilly Razz after she was faced with the challenge of finding unique, high-quality baby decor products. During several years of creating nursery decorations by hand, Zerlina's products gained notoriety in the baby decor industry.
Contact Info
For more information about the Wild & Free Collection, an interview with Zerlina Winkel or to request high-res product images for media placement, please write to info@lilyrazz.com.
Source: Lily Razz
Share:
---
Categories: Small Business, Interiors and Decoration, Decorating
Tags: home decor, nursery decor, product line release
---
Related Files
Additional Links