Like Credit Cards, More Isn't Necessarily Better, Warns Ameritech Financial
Press Release
-
updated: Jul 25, 2018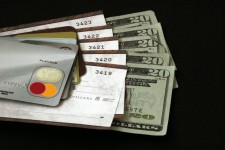 ROHNERT PARK, Calif., July 25, 2018 (Newswire.com) - ​It's hard to not want more money when it seems like all the enjoyable stuff in life comes with some sort of price tag. If everything has a price tag, more money should mean a potentially higher quality of life, right? But depending on how that money had come across, it may mean long-term problems for the future. Ameritech Financial, a document preparation service company, warns borrowers — potential or current — to think critically on their financial situation and potentially consult a financial professional before making a big decision like spending all available money on a credit card or taking out the maximum amount of student loan funding available.
When applying for a credit card, and then getting approved for a high amount, it can be tempting to spend little bits of that amount here and there, but spending like that can pile up. Or if an emergency happens where the credit card is necessary at the time, it may lead to trouble later on due to difficulty in repayment. Similarly, when offered large amounts of student loans, it can be tempting to take as much as possible. Not having to worry about covering anything financially during college sounds to many like a sweet deal. But not every borrower is fully aware of the concept that that loan money has to be repaid entirely, often with large amounts of interest. "Some people say that when they signed for the student loans, they weren't aware they would have to repay them if they didn't graduate with a degree," said Tom Knickerbocker, executive vice president of Ameritech Financial.
Dealing with finances often takes much consideration and planning to get the best outcome possible for an individual. Due to unforeseen circumstances however, even with some of the most careful planning, a borrower's financial situation may become more than that individual was prepared to handle. Ameritech Financial works with federal student loan borrowers to help them apply for income-driven repayment programs that can potentially lower their monthly payments. "In some cases, a credit card is necessary, because having the credit record from that may help with future endeavors such as applying for a home loan. For some individuals, student loans will be necessary. But borrowers shouldn't be punished for needing student loans and then having difficulty repaying them when our society tells people that to be successful, they will need to have some sort of college degree," said Knickerbocker.
Some people say that when they signed for the student loans, they weren't aware they would have to repay them if they didn't graduate with a degree.
About Ameritech Financial
Ameritech Financial is a private company located in Rohnert Park, California. Ameritech Financial has already helped thousands of consumers with financial analysis and student loan document preparation to apply for federal student loan repayment programs offered through the Department of Education.
Each Ameritech Financial telephone representative has received the Certified Student Loan Professional certification through the International Association of Professional Debt Arbitrators (IAPDA).
Ameritech Financial prides itself on its exceptional Customer Service.
Contact
To learn more about Ameritech Financial, please contact:
Ameritech Financial
5789 State Farm Drive #265
​Rohnert Park, CA 94928
1-800-792-8621
​media@ameritechfinancial.com
Source: Ameritech Financial
---
Categories: Financing and Student Loans, Financial News
Tags: credit cards, financial hardship, income-driven repayment, loans, student debt, student loan repayment, student loans
---