Life's Butter - Anti-Cellulite Cream With Lotus, Carrageen, Coconut, L-Carnitine and Q10
The hype is not for nothing. Life's Butter is for everyone!
Press Release
-
updated: Aug 8, 2019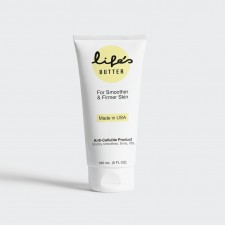 MIAMI, August 8, 2019 (Newswire.com) - Cellulite is stubborn, dimpled areas of fat. Cellulite can start as early as puberty, and it affects more than 70% of the population. It doesn't care if people are thin or overweight. While considered to be the most challenging type of fat to get rid of, there is a light at the end of the tunnel. Behold, Life's Butter -- an effective, non-surgical cream and dry brush from the comfort of home.
Life's Butter is exactly that. It is a brand-new, two-step product on the market that actually works. Users will notice a reduction in the appearance of cellulite after a few weeks of using it. This cream comes with a dry brush as well. The dry brush is a great way to exfoliate the skin before the cream. Dry brushing can be done daily, depending on the skin. This process preps the skin and opens the pores so that it can soak up the product more rapidly.
This cream consists of all-natural, highly effective ingredients. They may not all be medical-grade products, but some of them do work. There are two essential reasons to recommend this product:
CoQ10 and L-Carnitine:
L-Carnitine aids the body in metabolizing or breaking down fat. Many people do believe and claim that L-Carnitine is an efficient way to reduce the appearance of cellulite because of its ability to oxidize the fat stored in the body. This is essentially an amino acid, the building blocks of protein.
CoQ10 or coenzyme Q10 is a compound found naturally in the body. With age, the levels of CoQ10 decrease. Using a cream with this ingredient assists in restoring the skin's natural elasticity.
Some other natural, yet powerful, ingredients in this product are red algae, lotus leaf, coconut, and more for extra moisturizing power. Life's Butter anti-cellulite cream is mainly formulated with natural ingredients that aren't harsh on the skin—ensuring a firmer-looking body without harmful parabens and sulfate.
For best results, use Life's Butter two times daily on trouble areas, such as thighs, buttocks and stomach. Simply apply a generous amount and begin massaging in a circular motion to all the areas affected by cellulite. Due to the remarkable list of ingredients in this product, users will notice a difference in their skin's texture, minus the greasy feeling. Life's Butter will feel very lightweight on the body, and it even has a pleasant scent.
Life's Butter is 100% cruelty-free, never tested on animals and made in the USA. This is a new company based in sunny Florida, where it is always bikini season. For more information and to purchase Life's Butter today, please visit lifesbutter.com.
List of Ingredients also includes:
Water (Aqua), Alcohol Denat. Butylene Glycol, Glycerin, Cyclopentasiloxane, Caprylyl Methicone, Caprylic/Capric Triglycerides (Coconut Oil + Glycerin), Cetearyl Alcohol, Glyceryl Stearate, Carnitine, Chondrus Crispus Extract (Carrageen), Nelumbo Nucifera Flower Extract (Lotus Flower Extract), Ubiquinone (Coenzyme Q10), Maltodextrin, PEG-12 Dimethicone/PPG-20 Crosspolymer, Carbomer, Ethylhexylglycerin, Phenoxyethanol, Sodium Hydroxide, Fragrance.
The company offers three different packages to match every lifestyle.
1. Single Pack - starting at $39.99
2. Double Pack - Starting at $59.99
3. Triple Pack - Starting at $99.00
Every package purchased with a dry brush comes with free shipping for the U.S.
Source: Life's Butter
Share:
---
Categories: Beauty and Cosmetic Products
Tags: anti-cellulite cream, cellulite products, dry brush, lifes butter
---