Life is a Plan, Inc. Launches New Planner to Help Tipped Workers in the Hospitality Industry Achieve Financial Goals
Press Release
•
Sep 28, 2023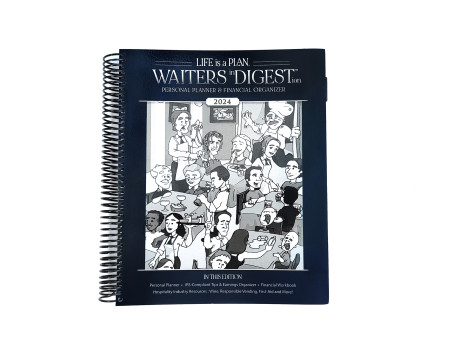 JACKSONVILLE, Fla., September 28, 2023 (Newswire.com) - Life is a Plan, Inc., a Jacksonville-based company dedicated to supporting the service industry in the areas of tip compliance and financial management, today announced the launch of its groundbreaking planner, Waiters Digest. This first-of-its-kind financial organizer empowers tipped employees in the restaurant and hospitality industry with a comprehensive toolkit for financial, professional, and personal well-being. It also provides resources for restaurants, hotels, unions, and other service industry organizations to educate staff on tipped income, IRS compliance, build morale, and much more.
According to industry data, over 4 million restaurant workers rely on tips for their primary income. A significant portion of these employees live in poverty due to low wages and limited access to benefits. Waiters Digest addresses these challenges by offering a centralized resource hub to help tipped workers achieve their financial goals and navigate their careers successfully. The planner delivers valuable insights and guidance on topics such as tip management, responsible alcohol service, wine resources, financial planning, and more. It also includes a directory of helpful websites and contact information, along with a convenient pocket in the back for storing important documents. Service industry employers can customize the planner with onboarding material and branding, creating a valuable resource to educate staff and meet compliance requirements.
Drawing from her own experience in the industry, Life Is a Plan, Inc. owner Regina Sheftall developed Waiters Digest to address the struggles faced by tipped employees and to provide game-changing support for this ambitious and dynamic group.
"I started in the hospitality industry in my teens and looked at it as a temporary stop on my way to a 'real' job," said Regina. "What was wrong with that? I didn't pay much attention to the money I was making. One day, I woke up, still in the business - 24 years later! It was scary to think that all those years passed, and I walked away without financial security. I knew many people going down the same path and wanted to do something about that. Waiters Digest is my answer. I wanted something that not only helped others with their financial journey but also helped them protect their money, elevate this diverse and dynamic field, and put resources in one concise place to simplify the hard part of this work - taking care of our money and time."
Waiters Digest is available for purchase on Life is a Plan, Inc.'s website, lifeisaplan.net. In addition to serving tipped employees, the planner is also a valuable resource to inform employees about tip compliance. To stay updated on the latest news, follow Life is a Plan, Inc. on social media (@lifeisaplaninc).
About the Author:
Regina Sheftall has spent 24 years in the industry, starting with counterwork and advancing to management and development roles. She holds a BA degree in education from Barry University.
Source: Life is a Plan