Liene Ambera Instant Photo Printer: The Ultimate Way to Bring Memories to Life
Press Release
•
Jan 3, 2023
Capture and print the most memorable moments in life using Liene Ambera's portable and innovative instant photo printer with a built-in WiFi hotspot, user-friendly customizable app and thermal dye sublimation for more vibrant and crystal clear photos.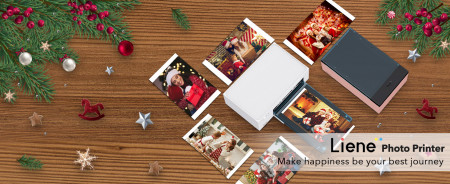 NEW YORK, January 3, 2023 (Newswire.com) - Liene today revealed the launch of its newest product line, Ambera, which makes instant photo printers that print full-color photos in a matter of minutes, come with a built-in WiFi hotspot for easier connection, and are compatible with iPhone, Samsung and most smartphones.
Since early 2017, Liene has been producing high-quality, intelligent photo printing products and accessories and is one of the biggest photo printing brands on Amazon.com.
The vision of Liene is for those people who are seeking the perfect gift that can help them and their loved ones to experience, capture and collect the most joyful, touching and purest moments in their lives. With that, Liene's latest product line of photo printers, called Ambera, is aimed at bringing happiness and showcasing meaningful moments in people's everyday lives.
With a targeted population of women from ages 27-50, Liene Ambera product line is for capturing and retaining moments like happiness, meaningful long-term love and loyal companionship. And this product line also sticks to the main idea that life is a journey of mutual companionship and mutual support.
Here come Ambera Portable Instant Photo Printer details:
More Vibrant and Durable Photos - Compared with traditional photo printers, Ambera 4x6" photo printers use thermal dye-sublimation by which dyes deeply penetrate the paper, making photos more vibrant and clear while protecting from scratches, water and fading.
Built-in WiFi Hotspot - Ambera's portable photo printer comes with a built-in WiFi hotspot. Quickly connect directly to the photo printer using the built-in hotspot without the need for other networks. It's much easier and more stable than standard Bluetooth connections.
Compatible with Multiple Devices - The photo printer is designed for everyone and works with most devices. It's compatible with iOS, Android, laptops, and PCs and allows 5 devices to connect simultaneously. Invite friends or families to join and share anytime.
Extra Customization on the App - Using the intuitive Ambera app, users can add more elements to photos using innovative frames, filters and effects before printing. Conveniently print cherished family photos or urgently needed ID photos from the comfort of home.
Easily Take It Anywhere - Because of its compact size, the Ambera instant photo printer is extremely portable and travel-friendly. Immediately create and share memorable photos from anywhere.
Available in 2 Colors - Ambera portable printers come in 2 simple and aesthetic colors, white and pastel pink.
Share the most precious moments with friends and family this Christmas season with Ambera's WiFi photo printers and remember the old adage "A picture paints a thousand words". It's available now on Amazon.com, starting at $135.99. For more information on Liene Ambera printers and how to buy them, please visit https://www.amazon.com/dp/B0983NX3L6
Source: Liene