Libyan, Post & Telecoms Holding Company (LPTIC) Has Been Awarded the Fourth Universal License in the Republic of Ivory Coast
Press Release
-
updated: Sep 17, 2016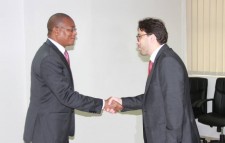 Tripoli, Libya, September 16, 2016 (Newswire.com) - The Republic of Ivory Coast's Ministry of Digital Economy announced the selection of the Libyan Post & Telecommunications Holding Company (LPTIC) as the fourth operator by awarding it the new universal license.
LPTIC's management held a series of extended meetings with the Ivorian Government from January to June of 2016, during which they presented a proposal for a comprehensive strategic plan to acquire the new universal license in the Ivory Coast. The technical and commercial aspects were taken into consideration, both in terms of assessing the targeted market's competitive environment and the size of the telecommunications sector in the Ivorian economy.
This important step comes as part of the restructuring of Libya's investments in the telecommunications sector in Africa that were previously managed by LAP GreenN. LPTIC is undertaking a vital role in restructuring the ICT sector in Libya in order to enhance its efficiency and contribute to the diversification of the Libyan economy.
Dr. Faisal Gergab, Chairman of LPTIC said, "We are pleased that LPTIC has been awarded the fourth universal license in Ivory Coast, the Ivorian market is one of the largest and fastest-growing in Africa. Furthermore, this license will allow LPTIC to broaden its horizons by entering fast-growing emerging markets. It will also provide LPTIC with a solid foundation to strengthen its presence and expertise in order to improve services and achieve commercial benefits. Consequently, LPTIC is well positioned to play an instrumental role in the socio-economic reform of Libya.
About LPTIC 
LPTIC  was established in accordance with the decision of the Prime Minister's number (63) for the year 2005 to a holding company to owner of major communications companies, Libyana  , Madar, Libya Telecom and Technology  (LTT),Aljeel aljadeed for Technology, International Communications Company, and Hatef Libya where these companies play significant role in the development of mobile phones and telephone communications internet connection has raised the efficiency of communications in Libya and to enable the largest possible number of citizens to get online service, whether by phone companies phones such as Libyana and Almadar or through the main internet services provider  such as Libya Telecom & Technology LTT or Hatef Libya company that provides phone wired  and wireless, as well as internet services.
Media Contact: 
media@lptic.net
Connect with LPTIC on Facebook: 
https://www.facebook.com/LPTIC
Source: LPTIC
Share:
---
Categories: Business News, Telecommunications, International News
Tags: Almadar, Libya, Libyan, Libyana, LPTIC, LPTIC Services, LTT, Post & Telecoms
---