Lewis Tree Service Hosts Hiring Event for Job Seekers at West Michigan Whitecaps Game Sunday, Aug. 22, 2021
Press Release
•
updated: Aug 25, 2021
Lewis brings jobs and sense of community to citizens of West Michigan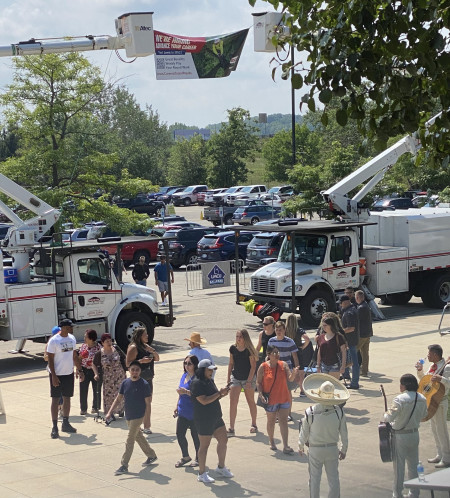 GRAND RAPIDS, Mich., August 25, 2021 (Newswire.com) - Lewis Tree Service hosted a Game Day hiring event at the West Michigan Whitecaps game at LMCU Ballpark in Comstock Park on Aug. 22, 2021, as part of their entry into the West Michigan market. The Whitecaps drew in approximately 4,900 fans on Sunday's game. Lewis was the game sponsor for the last home game of the season, along with holding interviews and hosting a traditional ballpark lunch for job seekers and game-goers alike.
Lewis Tree Service recently entered the West Michigan market, partnering with local utility companies and municipalities on vegetation management services. "When people think about what we do, they often think about cutting trees and plants away from power lines. While we do that, we also do a lot of different types of conservation and preservation work. We do a lot of environmental work, with restoring and preserving the natural habits as part of the work we do with utility vegetation management," says Eric Scherer, Divisional Vice President. "Integrated vegetation management is taking undesirable plants and vegetation out that's harmful to the environment while preserving the natural habitat needed for indigenous plants and wildlife in the areas we work."
Lewis is providing the opportunity for year-round work for job seekers in the Grand Rapids area, where many in the landscape and vegetation management areas can only offer seasonal employment. "There's a lot more to the work we do than trimming trees around power lines after storms. That requires training, and it creates the opportunity for a career for people who want more than a job." Mark Heggood, General Foreman, shared at the event.
"We want the people of West Michigan to know we're here and we're ready to help them not just get employment but build a long-term career with us where they can be challenged, advance and grow." - Mark Heggood, General Foreman
Lewis remains optimistic about connecting people with their jobs, despite a tight job market with unemployment under 4%. "I've been with Lewis for four years, and this is more than a job to me. The mentoring I've received, the leadership skills I've gained - it's a lot more than an opportunity for a paycheck," David Flores, Team Leader in Grand Rapids, shared. "People want to feel like they matter, and they do working with Lewis Tree Service." To learn more about the career opportunities in Grand Rapids and apply, interested West Michigan job seekers should visit https://lewis.careers/Grand-Rapids.
Source: Lewis Tree Service
Tags
Related Files