Leverage Raises $7m to Modernize Global Supply Chains With Visibility Platform
Press Release
•
Jul 14, 2023
Company Employs Simple Integrations and AI to Deliver 12X ROI to Customers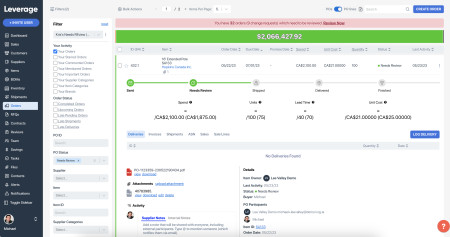 Leverage, the AI-powered supply chain command and control platform, is on a mission to provide unprecedented visibility to the global $9 trillion logistics industry.
$7m investment led by Chicago Ventures, along with Las Olas Venture Capital, Remarkable Ventures, Tensility and Florida Funders, accelerates product development to support its global customer base.
NEW YORK, July 14, 2023 (Newswire.com) - Leverage, the leading platform for end-to-end supply chain visibility, announces a $7m investment of growth capital, led by Chicago Ventures, with participation from Las Olas Venture Capital, Remarkable Ventures, Tensility and Florida Funders.
Leverage's software platform combines modern technology and AI to provide its customers with unparalleled visibility and insights into their supply chains—from supplier status updates to shipment ETAs. Integrations with existing systems allow customers to quickly simplify operations, allowing for real-time status visibility and automating purchase order visibility.
The pandemic, rapidly evolving trade policies and geopolitical tensions have fundamentally changed global supply chains. Businesses are saddled with ongoing pressure to mitigate risk and build resilience in their supply chains due to ongoing challenges related to labor shortages, shipping container shortages, and port congestion.
In 2022, Leverage managed over half a billion USD in purchase order spend and, more importantly, saved customers over 50% of their time every week, delivering an average of 12X ROI. Since then, Leverage has welcomed some of the largest manufacturers in the world as partners.
Leverage tackles inefficiencies of old-guard systems, where supply chain teams are tasked with utilizing disparate systems including emails, PDFs, and spreadsheets to track purchase orders. These professionals spend an average of 50-80% of their time chasing status updates. Leverage transforms these outdated systems, granting customers time to streamline workflow, drive ROI, and answer the question: "Where's my stuff?"
Leverage Co-Founder Nadav Ullman: "We're creating sustainable long-term technical solutions to solve supply chain logistics on a global scale. The additional capital allows us to continue to invest in engineering at a time when supply chain operations require radical and urgent modernization. We will continue to accelerate our product development—leveraging data analytics and machine learning to support our continuous, fast-growing customer base of some of the largest companies in the world."
Chicago Ventures Partner Peter Christman: "Global manufacturers are faced with increasingly dynamic supply chains which legacy toolkits are ill-equipped to manage. Leverage fills this gap, giving customers the speed, flexibility and intelligence they need to run efficient operations. We're delighted to help the team extend their efforts."
About Leverage: The first-of-its-kind cloud technology platform, Leverage provides enterprise software to supply chain teams around the world, enabling unprecedented visibility and building long-term supply chain sustainability across the entire lifecycle. Customers trust Leverage to ensure orders arrive on time, in full, and at cost, every day, transforming the global supply chain as we know it today. www.tryleverage.ai
Photos and logos are available here.
Source: Leverage