Level 3 Audiovisual Announces CrossPoint, Revolutionary AV Environment Management Platform
Press Release
•
updated: Jun 12, 2023
Global AV solutions provider launches private beta of first solution for asset tracking, utilization monitoring of all devices system-wide, regardless of manufacturer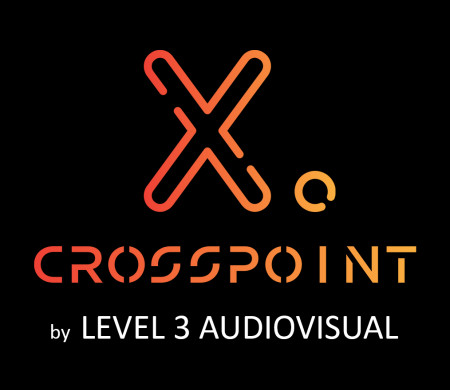 MESA, Ariz., June 12, 2023 (Newswire.com) - Businesses have struggled for years with the inability to easily identify and monitor the health and utilization of their audiovisual systems. Level 3 Audiovisual announces the launch of the private beta of its revolutionary CrossPoint® system, a game-changing solution to the enterprise challenge of scattered asset data.
Level 3 Audiovisual has been a leading AV systems integrator and solutions provider for nearly three decades, with more than 2,000 major projects completed in 22 countries, with clients as diverse as Chase Bank, Amex, Visa, eBay, New York University, and the Mayo Clinic.
CrossPoint® is Level 3 Audiovisual's unified pane-of-glass solution for providing a view of systems, devices, locations, and projects, designed to open a new era of smart, data-driven decision-making in the industry.
"With CrossPoint®, we are breaking the boundaries of traditional system and device management, providing a multi-dimensional perspective that revolutionizes data integration and insights. It's not just a step, but a leap towards smarter, more informed decision-making in the audiovisual industry," said Fred Loucks, chief technical officer at Level 3 Audiovisual.
At the heart of CrossPoint® is the concept Loucks calls the "composite digital twin." Organizations' AV systems are typically built on devices from multiple manufacturers, each running on its own proprietary firmware.
CrossPoint® systematically identifies each data source in the AV system and then questions each source, collecting data to take a "snapshot" of performance. It then integrates those individual snapshots to create a virtual twin of the system, with one panoramic image that tells managers everything they could want to know.
For example, Loucks said, CrossPoint® could make its virtual twin of a Zoom meeting room by first talking to Zoom's API. Then it could add the perspective of the organization's calendar system for utilization data, and next check in with the room's meeting screens to see if they are powered on and levels set appropriately, possibly via the manufacturer's cloud-based API.
"The idea here is that we gather data from disparate sources to get that full 3D picture of the system we're trying to describe - the composite digital twin, made of many component twins," Loucks said.
That "single pane of glass" view is vital for AV and IT system managers, who are struggling to achieve not only enterprise visibility but to optimize operational performance around system health, meeting room utilization, security, and lifecycle management.
According to Level 3 Audiovisual's internal client surveys of IT executives:
60% of respondents indicated that some of their systems are not being actively monitored.
70% of respondents indicated that they are using at least two or more distinct tools to monitor their AV/IT environments, relying on "portal jumping" to try to manage their systems.
80% of respondents indicated they are "dissatisfied" or "extremely dissatisfied" with their monitoring solutions and practice.
70% of respondents indicate they are under pressure to have their AV environment completely monitored within six months.
"Our clients have made it clear to us that the industry has been underserved with regard to system monitoring and security, and that prevents professionals from making key decisions," Loucks said.
The typical build of AV systems and the lack, until now, of a comprehensive monitoring solution leaves IT leaders with no way to measure up time and little to no inventory and asset data, forcing them to manually aggregate data and waste thousands of hours of staff time annually.
CrossPoint's® approach also means AV and IT leaders can achieve comprehensive asset and utilization monitoring with the equipment and infrastructure they have and not have to change out thousands or hundreds of thousands of dollars in AV equipment.
In the surveys, managers also say that the current state of AV systems and monitoring leaves them blind to security risks. CrossPoint® allows them to take crucial first steps to enhance their organization's IT security, by providing visibility to systems that are frequently overlooked and often unprotected.
"AV systems in the Enterprise are a lot like the junk drawer in your house: you don't really know what's in there," Loucks said. "Security teams are largely blind to the internals of audiovisual devices and systems, which usually are fundamentally insecure, using unencrypted protocols, plaintext passwords, variations of telnet, and more. CrossPoint® can help alleviate these issues by asking the right questions of your devices and systems and surfacing actionable data to IT and security teams."
The CrossPoint® solution aligns with Level 3 Audiovisual's "Evolv3" methodology for helping organizations accomplish internal transformation through three steps: Illuminate, Alleviate, Elevate.
First, CrossPoint® illuminates by shining a light on problem areas in IT or AV infrastructure, revealing issues that have been masked or in darkness. It enables managers to observe data that has been there, latent, the entire time.
Next, CrossPoint® alleviates problems because it enables managers to know the health of every aspect of the organization's AV systems, assisting them in keeping systems working at their optimal levels and reducing the number of reactive support tickets filed.
Finally, CrossPoint® elevates organizations moving forward by building a foundation for new, more efficient processes, such as proactive incident detection driven by machine learning.
In essence, Loucks said, CrossPoint® meets the industry where it is and answers the questions it has been unable to easily answer.
"The whole purpose behind creating CrossPoint®, what we set out to solve for, was that fundamental question: How many systems do you have, where are they and what's in them, and are they working?" Loucks said.
"Because when you have 3,000 conference rooms, you really need to know which ones are working and which ones aren't, because most of the time your users know more than you do."
For more information, please visit https://level3av.com
About Level 3 Audiovisual:
Level 3 Audiovisual is a global AV services leader with a mission: to help individuals and organizations reach their greatest potential. Its dedication to this mission is exemplified by being one of only four AV9000 quality management system-certified companies in the world. Its offerings include the design, deployment, and support of audiovisual systems as well as AV-as-a-Service (AVaaS), which allows customers to subscribe to meeting spaces or classrooms and forget about maintenance, upgrades, and support. For global organizations, it offers its proprietary Enterprise Program Management (EPM) solution, a managed service purpose-built to define and augment a global enterprise's audiovisual and meeting room program, focused specifically on centralized management of the architecture, deployment, and continued success of meeting room systems. As a thought leader in the industry, Level 3 Audiovisual continues to push the boundaries of AV/IT and offer increasing value for its customers while also sharing its knowledge with its peers.
Source: Level 3 Audiovisual