Lesnevich, Marzano-Lesnevich, Trigg, O'Cathain & O'Cathain, LLC, Prepares for the 2018 American Academy of Matrimonial Lawyers (AAML) Mid-Year Meeting in Maui, Hawaii
Press Release
-
updated: Feb 15, 2018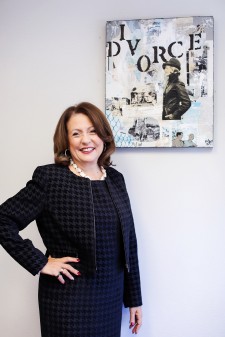 HACKENSACK, NJ , February 15, 2018 (Newswire.com) - Lesnevich, Marzano-Lesnevich, Trigg, O'Cathain & O'Cathain, LLC, prepares for the 2018 American Academy of Matrimonial Lawyers (AAML) Mid-Year Meeting being held in Maui, Hawaii. AAML President, Madeline Marzano-Lesnevich, Esq., Chair of the firm's Family Law Department, just returned from the final pre-meeting site visit to the island.
The meeting, which formally kicks off on the evening of Monday, March 12, 2018, with a Maui-ritaville Welcome Dinner, will take place at the magnificent Grand Wailea, a Waldorf Astoria Resort, located only 17 miles from the Kahului Airport. The meeting runs through Friday, March 16, 2018.
Continuing Legal Education will be held Tuesday, Thursday and Friday mornings. The CLE team, co-chaired by Connecticut Fellow David Griffin, Esq. and New York Fellow Leigh Baseheart Kahn, Esq., has put together informative, innovative and exciting presentations with both non-Fellow and Fellow speakers.
Attendees will learn about challenging or defending the admissibility of expert opinion in various jurisdictions; intimate partner violence; the battered women's syndrome; and the different forms abuse takes, including financial abuse.
Nationally recognized communication experts Deborah Shames and David Booth of L.A.'s Eloqui.biz will speak on media training, media coaching and "pitch" training.
Nancy Fannon, Partner-in-Charge of Litigation Support Services, Portland, Maine office of Marcum LLP, will speak on expert opinion challenges. Ron Seigneur, forensic valuation expert, author and professor at the University of Denver College of Law, and Henry Rinder, Head of Forensic Services and Valuations, New Jersey office of Smolin Lupin, will speak on dissecting the goodwill component of value— one of the most significant areas of judges' misunderstanding and of trial challenges.
The Committee meetings will take place, as usual, in the mornings before the CLE. The practice of a separate Chapter Leaders Meeting will take place, co-chaired by New Jersey Fellow Amanda Trigg, Esq. and New York Fellow Lee Rosenberg, Esq., and the Hennenhoefer Council Meeting, co-chaired by First Vice President/Texas Fellow Susan Myres, Esq., and Kentucky Fellow Reneaux Collins, Esq., will be held Monday morning and afternoon, respectively. The Hennenhoefer Council, formerly the Council of Committee Chairs, was renamed in honor of the late former AAML President James Hennenhoefer, Esq., who founded the Council. 
The Open Membership and Board of Governors Meetings are scheduled for Friday afternoon, after lunch.
In addition to recreational activities such as the traditional Golf Tournament, to be held at the Wailea Golf Club on Tuesday; the 5 K run and the President's Dinner, the Feast at Lele, both on Wednesday; and the Spouse/Guest event, the Kainoa Horcajo & Lahaina Historic Walking Tour, organized by Walt Lesnevich, Esq., to be held on Thursday, the meeting will conclude with a Moonlight In Maui Farewell Dinner Dance on Friday, March 16, 2018.
American Academy of Matrimonial Lawyers President Madeline Marzano-Lesnevich, Esq., of Lesnevich, Marzano-Lesnevich, Trigg, O'Cathain & O'Cathain, LLC, says, "This Meeting promises to be not only educational but fun. How could one not enjoy the camaraderie of seeing AAML friends from throughout the U.S. in such a beautiful setting as Maui. Come early! Stay late!"
For more information on the 2018 AAML Mid-Year Meeting, please visit: http://aaml.org/event/2018/march/11/aaml-national-2018-mid-year-meeting
For information about the AAML please visit: http://lmllawyers.com/family-law/american-academy-of-matrimonial-lawyers/
About Lesnevich, Marzano-Lesnevich, Trigg, O'Cathain & O'Cathain, LLC
For over 30 years, Lesnevich, Marzano-Lesnevich, Trigg, O'Cathain & O'Cathain, LLC, has been successfully assisting clients with personal injury and family law cases in the New York and New Jersey areas. Their roster of highly skilled and experienced attorneys help clients navigate through each case while always acting in the best interest of who they serve. The firm is committed to providing excellent legal representation for their clients and their families. If you have been hurt on the job or are going through a child custody battle or divorce, contact LMLTOO today and allow their experience to work for you.
E-mail: info@lmllawyers or call (201) 488-1161 today.
For more information, please visit http://lmllawyers.com, like their Facebook page (www.facebook.com/lmllawyers) and follow them on Twitter @lmllawyers (https://twitter.com/lmllawyers). Additionally, please call (201) 488-1161 or e-mail info@lmllawyers.com.
###
Source: Lesnevich, Marzano-Lesnevich, Trigg, O'Cathain & O'Cathain, LLC
Share:
---
Categories: Law Firms, Law News, Lawyers, Family Law, Law
Tags: AAML, American Academy of Matrimonial Lawyers, new jersey family attorney, new jersey family law, new jersey family law attorney, new jersey family law lawyer, new york family attorney, new york family law attorney, O'Cathain & O'Cathain, Trigg
---