LenderClose Fully Integrates With Simplifile, Enhancing the E-Recording Process for Credit Unions and Community Banks
Integration further streamlines lender access to all the vendors it takes to approve, underwrite and close a real estate loan
Press Release
-
updated: May 30, 2019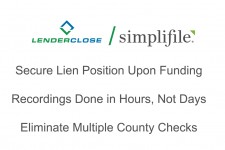 WEST DES MOINES, Iowa, May 30, 2019 (Newswire.com) - Two of the top technology companies in the housing industry have announced a new partnership this week. LenderClose has integrated Simplifile, which functions as an electronic liaison between lenders and county recording offices. Simplifile has deployed its e-recording platform in 50 percent of all U.S. recording jurisdictions and plans to help the remaining 50 percent realize e-recording benefits in 2019.
Because the LenderClose platform provides API connections to every vendor it takes to manage a mortgage or HELOC loan, the combination of the two platforms further streamlines the lending staff experience.
The integration is a continuation of LenderClose's strategy to provide lenders a single point of access to the housing industry's top vendors to holistically digitize the loan cycle. LenderClose also recently integrated with MeridianLink's LoansPQ loan origination platform.
"We cannot afford to lose sight of the borrower experience," said LenderClose COO Ben Rempe. "That's why we have placed such a high priority on putting the right technology and integrations into the hands of lending staff. When they are empowered to exceed expectations, the borrower experience is automatically improved."
Through LenderClose, lending staff access a suite of property data reports and services – from flood certification and valuation products to title reports and e-recording. The result is a vastly accelerated underwriting process, an increasingly essential capability for all lenders. With one vendor, one integration and one invoice, lending teams realize multiple points of efficiency.
The pairing of LenderClose and Simplifile allows lenders nationwide to upload county recordable documents, such as mortgages, trust deeds, releases and more, to the LenderClose platform without having to toggle between providers and accounts. Every LenderClose user will have access to e-recording and will remain inside the LenderClose platform as they engage directly with county recorders.​
"Vendor collaboration is critical for the continued digital transformation of the lending industry," said Paul Clifford, Simplifile founder and president. "We're fortunate to have found an excellent match in the leadership of LenderClose. Bringing our two platforms together has been very smooth and iterative. We have a strong feedback loop in place and look forward to taking our users' suggestions for making the experience of accessing both platforms from a single access point even better."
"Our old process required us to mail mortgages to county offices nationwide with a check in every package. It took us five to seven business days to record a mortgage or file a release," said Becky Beard, AVP of mortgage operations at Deere Employees Credit Union. "Now, we upload our documents to the LenderClose platform and the county e-records it the next business day, sometimes within hours or even minutes.  Once recorded, we're able to retrieve a copy of the documents, complete with county stamps." 
"Legacy lenders can't wait a minute longer to digitize," said Omar Jordan, CEO of LenderClose. "It's surprising how many lenders continue to rely on postal services, or even hand-delivery of documents, when the industry has access to fast, secure technology. By integrating with as many technology vendors as possible, we make it even easier for lenders to evolve their processes to new, exciting ways of serving digital consumers – and to close more loans while they're at it."
Both LenderClose and Simplifile were named to the 2019 HousingWire Tech100 as two of the top technology companies in the housing industry.
About LenderClose, Inc.
LenderClose is a powerful platform that digitizes the underwriting process and speeds up the lending cycle. The web-based hub gives lending staff instant access to the latest real estate lending technology, products and solutions so they can become dominant lenders in their local markets. To learn more, follow LenderClose on LinkedIn or at lenderclose.com.
 About Simplifile
Since 2000, Simplifile has grown one of the largest networks in the nation connecting lenders, settlement agents and county recording offices. From loan collaboration to e-recording and post closing, Simplifile offers an array of services in one place to help users securely share, record and track documents, data and fees. To learn more, visit Simplifile.com.
Source: LenderClose
Share:
---
Categories: Lending and Borrowing
Tags: eRecording, Fintech, LenderClose, Simplifile
---