LEIBISH Announces an Argyle Diamond Called the Red Dragon
Press Release
•
updated: Oct 29, 2021
Argyle Red (Red Dragon) Diamond by LEIBISH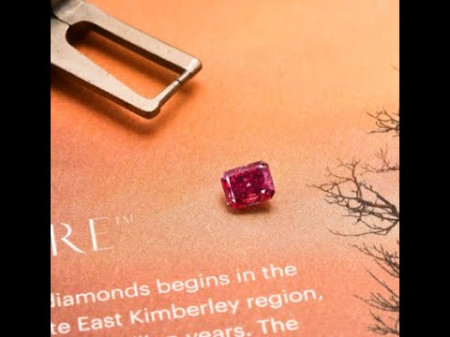 NEW YORK, October 29, 2021 (Newswire.com) - What can one say about a four-decades-long friendship that's held so many memories for color diamond connoisseurs? It can hardly be wrapped up in a few comments without the pain of closure being ever present.
Rio Tinto's legendary Argyle mine has closed forever, leaving many people with the melancholy of saying goodbye to a wonderful friend of over 30 years. Never will there be discoveries of what new miracles of nature this mine might have produced.
Looking back over the years, Australia's Argyle diamond values have increased 10-fold to where they are today. And prices have also reflected their high demand.
The Last Tender
The very last tender ended recently. Fierce competition between knowledgeable bidders ratcheted up prices to unthinkable new heights. But everyone knew this was the last-of-the-last chance to win these celebrated diamonds as they made their way into history. In the midst of aggressive bidding, LEIBISH was able to win a few extraordinary stones. The company is proud of this triumph.
Red Dragon Diamond
LEIBISH feels now is an appropriate time to unveil the pinnacle of its red diamond collection to customers and collectors—the Red Dragon diamond. Its name pays homage to Australia's exotic purple-red fruit—called the Red Dragon, which amazingly shares the same exotic hue as LEIBISH's diamond.
The 1.09-ct Fancy Purplish Red radiant cut, with exceptional VS2 clarity, came from the Argyle Pink Diamonds Signature Tender, 2020, One Lifetime, One Encounter. The Red Dragon diamond is presented with its tender box and book.
LEIBISH owns more than 30 red diamonds in its collection. Each one is rare, valuable, and has a story all its own. But the Argyle Red Dragon diamond is singularly unique, surpassing all expectations with its exceptional size, color saturation, and clarity. These traits make it truly a once-in-a-century diamond. Truthfully, such a diamond may never be encountered again.
A Fond Farewell
This diamond is the stuff that dreams are made of. Its nuanced color is almost indescribable while it evokes feelings of passion, emotion, and love. Descriptions like 'masterpiece', or 'natural wonder' pale in comparison to seeing it in person, polished and elevated to perfection.
This exceptional diamond—the Red Dragon, is our farewell gesture from Argyle to you.
LEIBISH means family
For LEIBISH, the lines between family and business are inextricably intertwined. LEIBISH founder Leibish Polnaur and his wife Rosalind are joined by their 5 adult children, each lending their specific areas of expertise towards the company's success It's all turned into a fine-tuned machine operating with unity and excitement for selling the finest color diamonds online - or anywhere in the world. Their latest exhilaration focuses on a 1.09-ct emerald-cut fancy diamond graded FPR (Fancy Purple Red) won by LEIBISH in the penultimate Argyle Tender.
For more information please contact us info@leibish.com
Source: LEIBISH
Related Media