Leia Patterns Releases New Modern Cross Stitch Collection
Rachel Nichols is redefining the world of cross stitch with modern and bold cross stitch pattern designs. Her newest product line - The Vibrant Dreams Collection - is set to release April 15.
Press Release
-
updated: Apr 4, 2018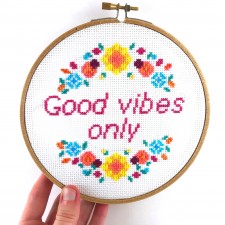 MEMPHIS, Tenn., April 4, 2018 (Newswire.com) - In a world where cross stitch is often synonymous with outdated designs and old ladies, designer Rachel Nichols at the age of only 21, is redefining cross stitch by creating modern and vibrantly colored cross stitch patterns for a more hip audience. Quickly gaining worldwide recognition, Leia Patterns is changing the way people see cross stitch. Her newest release – The Vibrant Dreams Collection – features bold colors, modern designs, and easy to stitch patterns.
Rachel Nichols started designing cross stitch patterns after she was faced with a very real problem. There weren't enough modern and simple cross stitch patterns available that anyone could make, whether they were young or a beginner. After many months of creating cross stitch patterns and kits by hand, Rachel's products started gaining notoriety amongst the cross stitch industry. Leia Patterns is now known for helping modern cross stitchers create beautiful and easy to make cross stitch pieces.
Leia Pattern's fans are excited about the new Vibrant Dreams collection, which officially launches on April 15, 2018. This collection will be exclusively sold on the website leiapatterns.com where the limited products are scheduled to sell out by the end of the season. The cross stitch patterns are designed to showcase a summer dreams theme with bold and vibrant colors that make cross stitchers feel as though they are stepping into summer. Several products come in ultra violet, bright yellow, and blue to capitalize on today's trends.
Her collection also includes cross stitch kits for those who want an easy and all-inclusive craft experience. Rachel says, "I believe anyone can cross stitch and I strive to make patterns and kits that allow beginners to learn the art of cross stitch. I especially love reaching young people who think cross stitch is an outdated art form. Many of them are surprised when they see my patterns and I've had numerous customers tell me that they never would have considered cross stitch until they saw my patterns, now they love cross-stitching!"
Source: Leia Patterns
Share:
---
Categories: Hobbies and Crafts
Tags: crafts, cross stitch, hobbies, leia patterns, modern cross stitch
---