Legendary Actors Hank Garrett and Mel Novak Bestowed With Icon Awards at the Action on Film Festival
Press Release
•
Aug 31, 2016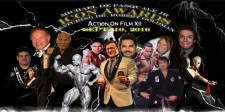 Monrovia, California, August 31, 2016 (Newswire.com) - The twelfth annual Action On Film (The AOF) will take place at the Krikorian Theater in scenic Monrovia, California from September 2nd to September 10th. Founded by Del Weston, the AOF is the go to festival for filmmakers, writers, producers, actors, DPs, composers and post production professionals to have their work recognized and honored. This prominent festival has launched a number of careers and continues to use aggressive marketing to bring even more attention and success to filmmakers and writers from around the globe.
To top it off, it's also the inaugural Year of Martialcon, which is truly a Martial Arts Extravaganza! There's also a Cosplay Competition, Martial Arts Film Festival as well as Martial Arts Movie/TV Celebrities, Martial Arts Stuntmen, and a Martial Arts Tournament all under one roof!
Don't miss the first ever Michael DePasquale Jr. Icon Awards honoring Martial Art Hollywood legends Hank Garrett (GI Joe the animated series, 3 Days of The Condor opposite Robert Redford, Car 54 Where Are You), Mel Novak (Bruce Lee's Game of Death, An Eye For An Eye opposite Chuck Norris, Samurai Cop 2: Deadly Vengeance) and and many other luminaries. There will be a black tie dinner and awards show on Sept. 10, 2016 at The Westin Hotel in Pasadena.
The AOF works directly with some of the biggest sponsor partners in food, entertainment and hospitality. They've also launched a line of books about their filmmakers and writers and have even become direct distributors for a number of aggregators and even Shorts.tv.
They feature their television interviews on the Del Weston Action On Film show which airs nationwide. Action on Film honors their filmmakers with brilliant awards and prizes in one of the biggest and most exciting award programs. This wonderful festival is chock full of over 500 films showcased on large screens as well as seminars, panels and galas.
More info at http://www.aoffest.com/
Source: The Williamson Management on behalf of the Action on Film Festiv
Related Media