Legacy of Environmental Stewardship Leads Wild Republic's Founder to Prestigious Toy of the Year (TOTY) Nomination
Press Release
•
Aug 22, 2023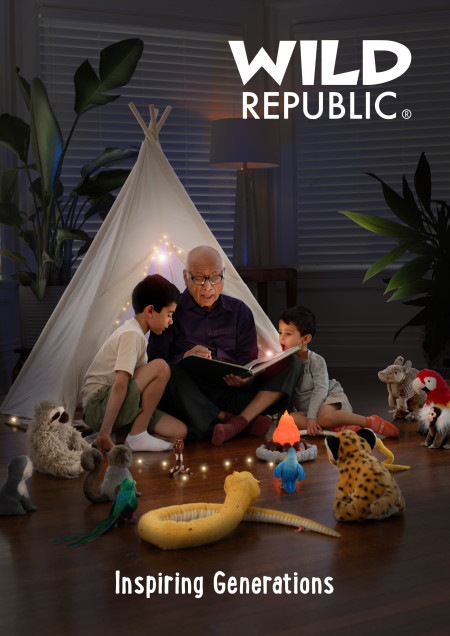 CLEVELAND, August 22, 2023 (Newswire.com) - Wild Republic, a leader in nature-inspired toys and education for over 40 years, celebrates an esteemed occasion today: the nomination of its co-founder, G.B. Pillai, for the esteemed TOTY Sustainability Award. This accolade spotlights Mr. Pillai's visionary leadership and the unwavering commitment of a company that has honored its "Promise to the Planet" for decades. Moreover, it highlights how the zoo and aquarium industry's sustainability innovations inspire the broader $104.7 billion toy industry to adopt greener practices.
From Aug. 21 to Sept. 8, voting will be exclusively open to Toy Association Members. Wild Republic warmly encourages members to cast their votes in honor of Mr. Pillai's decades-long commitment to sustainability and nature. This special nomination, coinciding with his 90th birthday week, highlights not only his undying passion but the influential role the zoo and aquarium industry plays in captivating young minds and immersing them in the beauty of the natural world.
Central to Wild Republic's ethos is an indomitable commitment to conservation, fostering the bond between humans and animals, and upholding ethical responsibilities. Stemming from Mr. Pillai's personal experience over 40 years ago—when he sought a keepsake for his child to remember a memorable day at the Cleveland, Ohio, aquarium—this belief has propelled the company's transition to using 80% recycled cardboard, decisively eliminating single-use plastics, and including recycled plastic beans in their cherished plush toys. Today, after more than 40 years of persistent growth and innovation, Wild Republic sets the gold standard in the industry by curbing deforestation, diminishing waste, and adopting sustainable sourcing. According to G.B. Pillai, "The animals and their connection to humanity shape our vision, mission, and every creation. It's through fostering an understanding of these animals that we ignite the spark of curiosity, a flame powerful enough to change the world."
Reflecting on the company's origins, Mr. Pillai acknowledges Kamala, his wife, and co-founder, for her pivotal role as COO and CFO. Kamala mentions their broader initiatives, "Opening an orphanage over 20 years ago for girls with mentally ill parents and establishing sanctuaries for animals have only strengthened our belief in human sustainability. It's essential to care for not only our natural world but also the communities we live in."
Wild Republic believes that in the hands of a child, a stuffed animal is more than just a toy. It becomes a confidant, a gateway to a world of imagination, and often an introduction to the awe of nature. For parents, these plush companions offer a triad gift: the joy of watching their child form a bond with their "wild" friend, the memory of their own childhood connections and experiences with their toys, and the peace of knowing they are instilling a respect for the environment. These toys weave stories, nurture dreams, and silently teach the next generation about the importance of coexisting harmoniously with nature. In every fiber of Wild Republic's creations, there's a thread of love—for the child who cuddles it and the planet that shelters us all.
Vishnu Chandran, Mr. Pillai's grandson, shares, "While this nomination is an individual accolade, it represents so much more. It underscores our resolute dedication to sustainability, the environment, and inspiring generations to come. The global journeys of my grandparents, G.B. and Kamala, who jointly expanded this brand's reach while reinvesting all profits into safeguarding animal habitats and supporting communities, inspire me every day. When I learned of this nomination, my immediate thought was, 'This isn't just about me or my grandparents, but rather my incredible team.' Working alongside industry pioneers like my grandfather, the original category disruptor of the zoo industry, instills a commitment in me to protect and further his legacy."
Founded in 1979 by G.B. and Kamala Pillai, who journeyed to the U.S. in the mid-60s, Wild Republic is deeply rooted in sustainability and Indian heritage. In 1999, they built a factory in India, situating it within communities for economic upliftment rather than near ports. This ethos, soon expanding to Africa, exemplifies Wild Republic's blend of innovation and corporate philanthropy, generously donating plush toys to various charitable entities and ensuring its offerings continue to inspire and educate.
From its inception to its current global stature, Wild Republic's journey is a testament to its unwavering commitment. As Vishnu Chandran further elucidates, "Our promise to protect our planet is embodied in every product we create, from utilizing soy ink and recycled cardboard to spearheading initiatives that minimize non-biodegradable materials."
As the TOTY awards evening nears, Wild Republic is set to unveil even more first-to-market sustainable innovation, underscoring their appreciation for zoos and aquariums globally. G.B. Pillai concludes, "These institutions amplify our mission. Our upcoming collection this fall is a testament to our unwavering commitment to a sustainable future."
For further insights into Wild Republic's endeavors, commitments, and products, visit www.WildRepublic.com or engage with them on social media:
Facebook, Instagram, LinkedIn, Twitter, YouTube, Pinterest: @WildRepublic

About Wild Republic:
For over 44 years, Wild Republic has been crafting nature-related toys that foster curiosity and educate children about the wonders of nature. With headquarters in Independence, Ohio, and a global presence, Wild Republic's mission remains unchanged: To inspire young minds and ensure a world where nature is cherished and sustained.
Source: Wild Republic