Leeo® Named CES 2019 Innovation Awards Honoree
Leeo Ping™ - Know Family and Friends Are OK, Let Them Know You're OK Too
Press Release
-
updated: Jan 6, 2019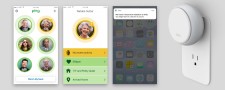 SAN MATEO, Calif., January 6, 2019 (Newswire.com) - Leeo today announced that it has been named a CES® 2019 Innovation Awards Honoree for the Leeo Ping Independent Living Service. The announcement is being made in conjunction with the Consumer Electronics Show, Jan. 8-11, 2019 in Las Vegas, NV.
An annual program that celebrates outstanding design, CES Innovation Awards recognize honorees across 28 product categories. A panel of judges, including designers, engineers and members of the tech media, reviews submissions based on design, functionality, consumer appeal, engineering and how the products compare with competitors.
Leeo Ping is a sensor-enabled service that helps reduce the challenges of independent living, at home or in a community. Ping enables family, close friends and caregivers to create a private mutual aid network, a trusted circle. With the Leeo Ping service and Leeo Smart Alert platform, you and your trusted circle are safer and more connected. It's easy for all ages to create a trusted circle to watch out for each other.
"The Leeo Ping trusted circle provides at-a-glance traffic light status of you and your loved ones whether at home or away," said Johnson Agogbua, Leeo CEO. "Combined with Leeo Smart Alert nightlight, you and those you care about can be safer and more connected."
The Leeo Ping service is perfect for:
●     Anyone who lives alone
●     Adult children to know their aging parents are ok
●     Parents wanting to know their kids are ok
●     Professional caregivers
Leeo will be demonstrating Ping with the new Smart Alert at The Venetian during CES. For appointments at the Leeo suite please visit https://calendly.com/leeo or email Leeo at CES@Leeo.com. Leeo will also be demonstrating at CES Unveiled, the official media event of CES Jan. 6, 2019, 5-8:30 PM Shorelines Exhibit Hall, Mandalay Bay.
The CES Innovation Awards are sponsored by the Consumer Technology Association (CTA)™, owner and producer of CES, the world's largest and most influential technology event. CTA has been recognizing achievements in product design and engineering since 1976.
Leeo Ping and the new Smart Alert nightlight will be on display in the Innovation Awards Showcase at the upcoming CES 2019. The complete list of CES 2019 Innovation Honorees, including product descriptions and photos, can be found at CES.tech/Innovation.
CES 2019 will showcase life-changing technology across every major industry, featuring 4,500 exhibitors in 2.75 million net square feet (260K net square meters) of exhibit space. CES provides access to the very latest transformative tech, such as 5G connectivity, artificial intelligence, augmented and virtual reality, smart home, smart cities, sports tech, machine learning and more.
About Leeo:
We're a team of committed technologists and business people who have first-hand experience with aging parents endeavoring to live their lives independently. Conventional solutions neglect the family dynamic, project stigma, impose daily life changes or miss that we care about each other. It's a mutual concern, our parents also worry and care about us. As a result, we created Leeo Ping, a sensor-enabled safety net. We also created one of the key devices that work on Ping, the next generation Smart Alert. Leeo Ping assists our family and friends, including our parents, to live more safely and independently. We give you the freedom and assurance you want and the peace of mind your friends and family need. www.leeo.com
About CES:
CES® is the world's gathering place for all who thrive on the business of consumer technologies. It has served as the proving ground for innovators and breakthrough technologies for 50 years – the global stage where next-generation innovations are introduced to the marketplace. As the largest hands-on event of its kind, CES features all aspects of the industry. Owned and produced by the Consumer Technology Association (CTA)TM, it attracts the world's business leaders and pioneering thinkers. Check out CES video highlights. Follow CES online at CES.tech and on social.
About Consumer Technology Association:
Consumer Technology Association (CTA)™ is the trade association representing the $377 billion U.S. consumer technology industry, which supports more than 15 million U.S. jobs. More than 2,200 companies – 80 percent are small businesses and startups; others are among the world's best-known brands – enjoy the benefits of CTA membership including policy advocacy, market research, technical education, industry promotion, standards development and the fostering of business and strategic relationships. CTA also owns and produces CES® – the world's gathering place for all who thrive on the business of consumer technologies. Profits from CES are reinvested into CTA's industry services.
# # #
Contact:
Neil Mitchell
Sr Director, Marketing and Business Development
press@leeo.com
www.leeo.com
Source: Leeo, Inc
Share:
---
Categories: Venture Funding, Business Finance, Elder Care, Seniors
Tags: Accessibility, Award, Caregivers, CES, family, independent living, Insurance, Leeo, Ping, Seniors, Service
---