Leap Academy Won the Startup of the Year Gold Stevie Award for 2023 American Business Awards
Press Release
•
May 2, 2023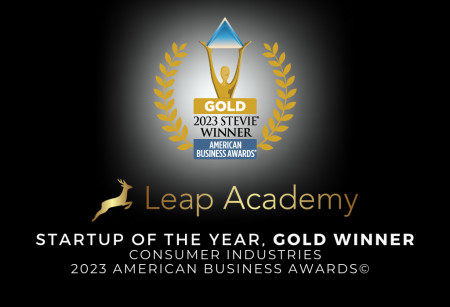 LOS ALTOS, Calif., May 2, 2023 (Newswire.com) - Leap Academy was named the winner of a GOLD Stevie® Award in the Startup of the Year - Consumer Services Industries category in The 21st Annual American Business Awards® today.
Leap Academy is an award-winning, internationally renowned program designed to help professionals fast-track and leap their careers. Launched in 2020, in three years, it has helped hundreds of professionals across four continents, generating $60 million in capital to the market and $4M in revenue with no external investment.
Leap Academy gives professionals the tools, strategies, coaching, and community they need to land leadership roles fast, raise millions in capital for their startups, join advisory, boards, and more.
The American Business Awards are the U.S.A.'s premier business awards program.
More than 3,700 nominations from organizations of all sizes and in virtually every industry were submitted this year for consideration in a wide range of categories.
The Startup of the Year award in the Consumer Services Industries category is extremely hard to achieve and for Leap Academy to be the Gold winner is a huge testament to the results, growth, and impact Leap is creating for society.
"I am extremely proud of the Leap Academy team for the hard work, dedication, and for helping our clients become the absolute best version of themselves. I also want to thank our clients who have been not only growing themselves but creating an impact on everyone around them. You are the true leaders of tomorrow." - Ilana Golan, Founder & CEO of Leap Academy.
About Leap Academy
Leap Academy is disrupting professional education and helps driven professionals significantly fast-track their careers. With our engineered, proven method, our clients get clarity for what they want to do next, leap to leadership or entrepreneurship and gain the income, reputation, impact, and balance they desire. Our award-winning, internationally renowned system has helped hundreds of professionals across five continents create $60M value to the markets through salary increases, raised venture capital, and M&A. The professionals in our Leap Academy have the tools to reinvent and leap again and again, paving a path to legacy, thought leadership, and freedom.
About the Stevie Awards
Stevie Awards are conferred in eight programs: the Asia-Pacific Stevie Awards, the German Stevie Awards, the Middle East & North Africa Stevie Awards, The American Business Awards®, The International Business Awards®, the Stevie Awards for Women in Business, the Stevie Awards for Great Employers, and the Stevie Awards for Sales & Customer Service. Stevie Awards competitions receive more than 12,000 entries each year from organizations in more than 70 nations. Honoring organizations of all types and sizes and the people behind them, the Stevies recognize outstanding performances in the workplace worldwide. Learn more about the Stevie Awards at http://www.StevieAwards.com.
Source: Leap Academy
Related Files