Leading Online Jeweler, Ritani, Shares Expert Commentary on Ben Platt and Noah Galvin's Engagement Rings
Press Release
•
updated: Jun 6, 2023
Engagement Ring Experts Who Sell Thousands of Engagement Rings and Wedding Bands Per Year Discusses All of the Specifications of the Couple's New Engagement Rings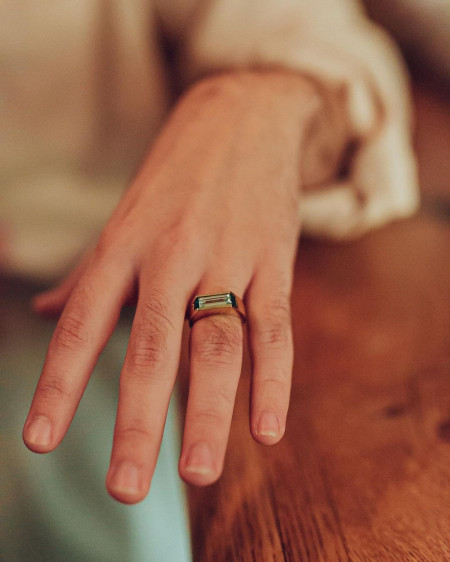 NEW YORK, June 5, 2023 (Newswire.com) - Ritani, the leading online seller of natural diamonds, lab-grown diamonds, and fine jewelry, asked Head of Product Ria Papasifakis for an expert opinion on Ben Platt and Noah Galvin's unique engagement rings.
Ben Platt and Noah Galvin, two of Hollywood's most beloved actors, recently announced their engagement. The couple shared photos of their rings on social media, and jewelers have commented on the unique designs.
"The rings are both stunning," says Ria Papasifakis. "The sapphire ring is a beautiful choice for Ben, and the emerald ring is perfect for Noah. I love that they both chose non-traditional stones, and I think their rings are truly one-of-a-kind. Galvin's engagement ring features a wide diamond baguette accompanied by two trapezoid-shaped emeralds on either side of the main stone, all nestled within a yellow gold band. Platt's multi-stone engagement ring boasts a sizable rectangular sapphire as its centerpiece, flanked by two diamond side stones, all set on a yellow gold band.
Platt and Galvin are not the first celebrities to choose non-traditional engagement rings. There has been a trend toward more unique and personal designs in recent years. This is likely because it is now easier than ever to design an engagement ring online or in person.
"There's no right or wrong way to choose an engagement ring," says Papasifakis. "The most important thing is that the ring is something that the couple loves and cherishes."
Platt and Galvin are certainly setting a trend with their unique engagement rings. Their rings are a reminder that there are no rules when it comes to choosing the perfect ring for your special someone.
You can read more about the couple's engagement here: https://www.ritani.com/blogs/news/ben-platt-and-noah-galvin-are-engaged-again!
Source: Ritani