Leading Investing Platform CoinBundle Adds Coinbasic, Halal and Top-20 Bundles of Cryptocurrencies to Bring New Investors to Crypto and Web 3.0
Press Release
-
updated: Oct 1, 2018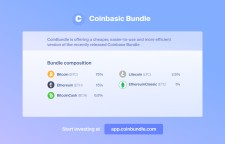 SAN FRANCISCO, October 1, 2018 (Newswire.com) - Crypto investment platform CoinBundle, the pioneer in offering bundled digital assets to retail investors, is launching its newest investing bundles: Coinbasic Bundle, Halal Bundle and Top-20 Bundle.
These 3 bundles will be added to the three signature bundles of cryptocurrencies that are based on investor risk profiles: Conservative (CNS2), Aggressive (AGR10) and Emerging (EMG10) Bundles.
Coinbasic Bundle (BASIC): CoinBundle is offering a cheaper, easier-to-use and more efficient version of the recently released Coinbase Bundle. Investing in this bundle will allow users to save a significant amount on fees that they would otherwise pay. This allows users to invest even more money in bundles and get up to 25 percent higher returns over their lifetime. The minimum amount for purchase is also $5 compared to Coinbase's minimum $25. The Coinbasic Bundle is available to investors from the EU, Canada and 140 other countries globally.
Halal Bundle (HALAL): The Halal Bundle is the world's first bundle of digital assets compliant with Islamic Finance. Each asset in the bundle is meticulously researched to ensure adherence with the core tenets of Muslim investing, and requires sign-off from a leading religious scholar. This bundle will open up the world of crypto investing to over 1.8 billion Muslims globally and open the pathway to the $1.8 Trillion currently invested in Islamic Finance to flow into cryptocurrencies.
Top-20 Bundle (TOP20): This bundle allows users to invest in 20 leading cryptocurrencies with high market capitalizations and strong communities of believers behind them. This approach is ideal for investors who want to diversify their holdings across a wide variety of digital assets without spending time and effort buying them individually. The minimum amount to purchase a bundle is still $5.
CoinBundle is rapidly advancing its mission to bring the next billion users from emerging markets to participate in cryptocurrencies and Web 3.0. The platform is also unique in its ease of use for new investors, allowing them to learn about cryptocurrencies, invest in them securely with a qualified custodian and earn tokens for investing their time into decentralized projects.
The addition of the new bundles is a first step towards the BundleMarket where users will be able to create their own unique bundles, publish them on a marketplace and allow others investors to buy them as well.
CoinBundle also announced a new addition to its award-winning educational resources for new investors: CoinBundle Conversations. This is a YouTube and Podcast interview series where the company interviews leading investors, entrepreneurs and leaders in the cryptocurrency space to learn more about their journeys and key lessons for new investors.
Saad Rizvi, CEO of CoinBundle said: "Our newest bundles will open up the world of cryptocurrencies to an entirely new category of investors by allowing them to invest in a way that reflects their beliefs, needs and preferences for the first time. We're excited to lead the charge in bringing responsible, portfolio-based crypto investing to billions of new investors in emerging markets."
About CoinBundle
CoinBundle is a cryptocurrency platform which is bringing the next billion people to invest in CryptoCurrencies and participate in Web 3.0. The company gives new investors the easiest way to build their crypto-portfolios based on their unique preferences and invest responsibly while minimizing risk through diversification.
The company provides a wealth of educational resources for first-time investors, its Medium Blog being listed as one of the 'Top CryptoCurrency blogs' in the world. CoinBundle is backed by top Silicon Valley VCs and investors such as Y Combinator, Initialized Capital, Tuesday Capital, Switch VC, Liquid2 Ventures, FundersClub, and Amino Capital.
More information: www.coinbundle.com
For further questions or interviews, please contact:
Alexander Iakovlev
Co-founder and Chief Marketing Officer, CoinBundle
e: alexander@coinbundle.com
Source: CoinBundle
Share:
---
Categories: Cryptocurrency, Finance, Information Technology
Tags: bundle, coinbase bundle, coinbasic bundle, coinbundle, cryptocurrency, finance, fintech, investing
---