Leading Companies and Organizations Join the 2023 National Call for Kindness
Press Release
•
Apr 3, 2023
National organizations like Youth Service America, DoSomething.org, CenterLink, Born This Way Foundation, Student Leadership Network, Green Schools Alliance, and many more have joined in to show their support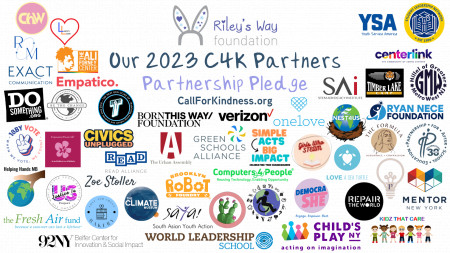 NEW YORK, April 3, 2023 (Newswire.com) - Leading companies, organizations, and individuals are enthusiastically supporting Riley's Way Foundation's 2023 Call For Kindness (#CallForKindness) and championing kind leaders everywhere. The Call For Kindness program gives young changemakers across the country the skills, connections, and funding they need to lead social impact projects.
National organizations like Youth Service America, DoSomething.org, CenterLink, Born This Way Foundation, Student Leadership Network, Green Schools Alliance, and many more have joined in to show their support for these young leaders and for kindness as an essential element of effective leadership.
"Today, more than ever, the world needs kind and empathetic leaders to address the complex challenges facing society," said Dr. Christine O'Connell, Executive Director of Riley's Way. "Empathy and kindness are often overlooked as critical leadership qualities, and we're changing that. By signing our partnership pledge, you publicly acknowledge that you regard these as essential leadership traits."
"Riley's Way embodies everything we believe about leadership; it must begin with kindness and connection," shared Laura Rebell Gross, Riley's Way Board Member and Student Leadership Network's Senior Managing Director.
Riley's Way Partner and 2021 Call For Kindness Fellows, Shreyaa and Esha Venkat of NEST4US, shared, "Our world is better when kindness becomes a lifestyle rather than a one-time action. There are so many acts of kindness people can do every day that can make a difference regardless of how big or small the action is. This ripple effect is actually the best part about kindness. Our overall vision at NEST4US is to empower people of all ages and backgrounds to create a more compassionate and inclusive world by instilling a passion for service through acts of kindness."
"DoSomething is committed to joining Riley's Way because we know that relationships matter," explained DeNora Getachew, Executive Director of DoSomething. "We strive to create an inclusive space that fuels young people to take action on the issues most pressing to them. We know at the core this starts with kindness and compassion for your neighbor, empathy for those with different lived experiences, and a desire to build stronger and more joyful communities."
Visit CallForKindness-partnership-pledge.org to see the complete list of groups voicing their support for kindness, empathy, inclusivity, and youth leadership around the nation - and the world.
About Riley's Way Foundation
Riley's Way Foundation is a national nonprofit organization that empowers a youth-led kindness movement, providing young people with the programs, support, and inclusive community they need to thrive as changemakers.
Source: Riley's Way Foundation
Tags