LDS Music Artists Scott Rivers and Jared Pierce Release Their First Album "A Prayer Unto Thee"
"A Prayer Unto Thee" an inspiring and beautiful collection of hymns. Let the uplifting voice of Scott Rivers and the inspirational melody of Jared Pierce lift up your heart and bring you closer to God.
Press Release
-
Sep 20, 2016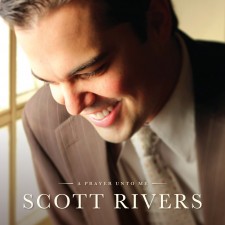 Folsom, California, September 20, 2016 (Newswire.com) - Scott Rivers introduces his first vocal CD "A Prayer Unto Thee". Arranged by Jared Pierce, this CD is full of gorgeous rich Hymns that will make your heart soar. With the beginning of this holiday season refresh your faith and feel the peace that will touch your soul as your listen to these original arrangements.
Music has always been the main way in which Scott has expressed his love and testimony of his Savior, Jesus Christ. His music and his spine tingling voice are his gifts from God to the world. Scott counts himself fortunate that he is now able to share his gift of music, as well as his testimony of the greatness of his Savior, Jesus Christ through his album.
Scott Rivers' freshman CD was brought to fruition through the support of friends, family, and fans taking part in his Kickstarter campaign. In January 2014 Scott Rivers, a California native, began a Kickstarter campaign at the bequest of many to produce a vocal CD of religious hymns that would uplift and inspire the soul. It would take only a few short months for the dream to become a reality.
When Scott began to put together the team to produce his debut CD he could not have imagined working with anyone other than Jared Pierce. Jared Pierce is a bright shining pianist and composer, who is on the rise in the Utah's religious music scene. He has toured and played throughout the world. It has been his great pleasure to work with instrumentalists, choirs, and performers the world over. He has also been blessed to work as a composer for stage and screen.
Together they are a dynamic duo in perfect unison creating beautiful harmonies to the Lord. A Prayer Unto Thee is their first collaboration of religious hymns. In this album Scott lays himself bare with soaring vocals and a rich clarity of voice. Become swept away with gorgeous hymns like "Abide With Me, 'Tis Eventide" a stirring invitation to invite the Savior into your heart. The collection of Psalms does not stop there as each song builds on the next working together to lift one's soul "Nearer, My God, to Thee." Accompanying Scott, Jared's beautiful compositions and arrangements bolster the performance making each song an intertwining of two men's God given talent coming together in beautiful harmony. 
This collection of musical tributes and glorious praise to Christ will be able to renew your strength and faith in your everyday life. It will easily become a staple in the listening collections of Christians everywhere. There is a song that each and every person can identify with and will touch them deepening their connection with the lord and renewing them in the spirit.
"A Prayer Unto Thee" is being released by R Legacy Entertainment in Deseret Book Stores at select locations including; City Creek, University Village, Sacramento, Ft. Union, and Rexburg. The physical CD can also be purchased through deseretbook.com. The digital version can be found on iTunes, Amazon, Spotify, and yourldsmusicstore.com. Links to these outlets can be found on Scott's website scottrivers.net.
You can contact Scott Rivers personally at scottrivers_music@yahoo.com. You can also check out his website for the all the release details and upcoming projects and performances at http://scottrivers.net. Follow him on facebook at http://tinyurl.com/z9mq3tq.
You can find Jared Pierce at http://piercemusicstudios.com where he has the sheet music for A Prayer Unto Thee as well as a variety of his other compositions available.
Source: Scott Rivers
Share:
---
Categories: Music, Faith, Arts and Entertainment
Tags: Christian Music, Christian Music Artists, LDS Church Music, LDS Hymns, LDS Hymns Music, LDS Music, LDS Music Artists, LDS Music Downloads, LDS Music Online, LDS Sheet Music
---