Lazy Hare Announces the Take Flight Collection This Winter
Press Release
•
Oct 11, 2016
Just in time for snow-filled fun, Lazy Hare introduces a collection of enchanting mittens that are sure to create buzz this season.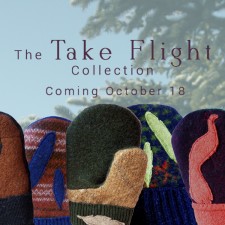 Anchorage, Alaska, October 11, 2016 (Newswire.com) - ​​Lazy Hare is thrilled to release a line of stunning felted wool mittens in the Take Flight Collection; hands and hearts everywhere will be warmed on October 18, 2016.
Inspired by those crystal clear winter skies and the feathered friends that inhabit it, the Take Flight collection from Lazy Hare is a journey over the hills and through fluffy winter landscapes.
"[Give] something that is sure to create a memory that will last year after year."

Bonnie Getter, Owner
This winter, whether you choose a carefree day of sledding with the family, or a stroll through a snowy forest of winter evergreens, these toasty-warm wool mittens are sure to be an essential accompaniment on your adventure.
Continuing to utilize reclaimed fabrics to create thrilling new pieces, Lazy Hare has meticulously selected each material and lovingly hand crafted truly unique mittens to keep you warm this winter. Your hands will feel luxury as you nestle them into the high-quality polar fleece lining of these stunning felted wool mittens.
At the core of this collection is transformation and change. Seasons go by, birds migrate south, and leaves create magical palettes that fade and fall. The mittens in this elegant collection are a reflection of nature's transitions. Every fabric holds a story from its beginning to reclamation to transformation, and each pair of mittens continues that story. What will you do in your mittens? How will you take flight this season?
A unique piece from the Take Flight collection will be the foundation of any winter wardrobe. A combination of felted reclaimed wool and pillow soft polar fleece make these mittens as warm as they are gorgeous.
Elegant appliqué feathers and peacocks decorate the felted wool on each mitten in this collection. The designs vary from a full peacock in all its glory, to a simple feather on the underside of the cuff, a secret to remind you of splendor whenever you see it.
Lazy Hare even offers customization with each pair of mittens to make them as unique as the wearer. Add buttons to the cuff to give your mittens that bit of sparkle. A scarf clip or hat clip that matches your individual mittens can also be added to complete that perfect winter look.
If it's a gift you are giving this holiday season, Lazy Hare has you covered. When you add a matching miniature mitten or tree ornament, you are giving something that is sure to create a memory that will last year after year.
Limited quantities are available of each style, so on October 18, whether it is for yourself or your loved ones; give the gift of warmth this winter with a pair of wool mittens from Lazy Hare's Take Flight Collection.
All the pieces from Lazy Hare's newest collection can be found at www.LazyHareDesigns.com.
You can follow Lazy Hare on Facebook at www.facebook.com/LazyHare and on www.instagram.com/lazyharedesigns and Pinterest https://www.pinterest.com/lazyhare/ to see the latest updates and sneak peaks.
To get first looks and exclusive discounts not available to the public go to http://bit.ly/lazyhare20.
Source: Lazy Hare
Related Media