Laurine Defrène Introduces New Royal French Collection Wedding Cupcake Toppers
The royal French collection is expected to generate buzz around the world since it is one of a kind in the cupcake topper industry. These glamorous toppers that can also double up as table or napkin decorations, are made from a foodsafe clay and brilliant stones that are found in Thailand.
Press Release
-
updated: Feb 28, 2018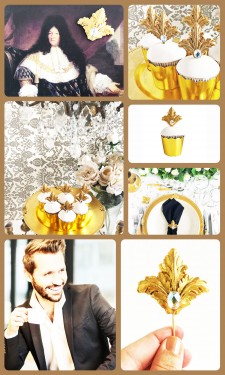 BANGKOK, February 28, 2018 (Newswire.com) - Laurine from Laurine Defrène Design is releasing the brand new royal French collection and each product will be individually made by the designer herself. The royal French collection will be released on Wednesday 7 March.
Laurine Defrène Design is known for helping brides and brides-to-be so they can bedazzle their guests on their wedding day.
Thus for the first time, Laurine has created an entire product line of her most popular French emblems, molds, and jewelry. The new royal French collection is scheduled to go live on 7 March. 
The collection will be exclusively sold on the website etsy.com/shop/LaurineDefreneDesign, where the limited products are scheduled to sell out by the end of the season.
The cupcake toppers are designed to showcase a French-themed love story with aristocratic designs that make brides-to-be feel as though they were aristocrats themselves.
Several products come in green, ultraviolet and pink to capitalize on today's trends.
Her collection also includes golden and silver cupcake cases to showcase the shiny toppers.
Each individual cupcake topper has its own name. A few examples are:
Marie-Antoinette
Louis XIV
Versailles
La Marquise
Chérie
The royal French collection ranges in price from U$2,50 to U$7,75 per topper.
Laurine is excited to welcome her fans to her new handmade product collection.
For more information about the royal French collection or for an interview with Laurine, please write to info@laurinedefrene.com. Media high-res photos available upon request.
About Laurine Defrène Design
Laurine started designing cupcake toppers after she was faced with a very real problem: how to lend glitter and glamour to wedding cupcakes. After many months of creating cupcake toppers by hand, Laurine's products started gaining notoriety amongst the cupcake topper industry.
Source: Laurine Defrène
Share:
---
Categories: Interiors and Decoration, Weddings, Restaurants, Bars, and Catering
Tags: cupcake toppers, cupcakes, glamorous cupcake toppers, glamorous cupcakes, gorgeous cupcakes, wedding, wedding cupcake toppers
---