Laurel Bennett, Candidate for Florida House Representative District 86, Discovers WPTV Fake Election Results Before August 30th Election
Laurel Bennett, Candidate for Florida House Representative District 86, discovered fake election results of the upcoming August 30 Primary election on the West Palm Beach News website, WPTV. Google Search Results on August 27th, claimed Laurel Bennett received 45% of the vote and just over 12K votes. Is this orchestrated fraud by WPTV or reckless irresponsible behavior by their web team for "testing" their results on a page that gets indexed in Google before the Primary Election?
Press Release
-
Aug 27, 2016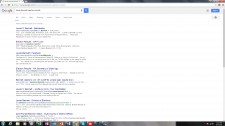 Palm Beach, FL, August 27, 2016 (Newswire.com) - ​​​​​​​​Laurel Bennett is a Republican running for Florida House Representative in District 86. ​This is a very important Primary Election for Palm Beach County on August 30th, 2016. District 86 encompasses Royal Palm Beach, Wellington, Haverhill, Loxahatchee, Green Acres, as well as a part of western Lake Worth and West Palm Beach. 
Laurel Bennett CSE, MBA Candidate For House of Representatives District 86
As a business owner and wife of a veteran, Laurel Bennett is extremely passionate about lowering taxes, lowering regulation, and the ensuring that the government properly care for the nation's veterans adequately and efficiently. She thinks that the mismanagement of the Veterans Health Administration has been a travesty for veterans' health issues, and she wants to give veterans a voice in the Florida House of Representatives.
On Saturday morning August 27th, Laurel was shocked to receive a phone call that the election results were already in, according to the WPTV website! As one can see in the screenshot of Google search results below, it shows Laurel Bennett receiving 45% of the vote and a little over 12K votes in the August 30th Primary!
If one types a specific search query such as "Laurel Bennett election results" or other specific queries about Laurel Bennett and the election into Google, as of Saturday August 27th, they will see:
www.wptv.com/election-results​​
WPTV Election Results | West Palm Beach News, South Florida Breaking News, Video from ... FloridaElection Results 2016 .... R Laurel Bennett, 45%, 12,189 ..."
This information is inaccurate and disrespects Laurel Bennett, her hardworking campaign volunteers and also the District 86 voters who have and haven't yet voted for Laurel on August 30th. Google is the most favored search engine in the U.S. and receives over 70% of searches now. Many people rely on Google to find early voting times and locations this last week, and Palm Beach County is no exception to how people obtain information through this search engine. Besides Early Voting times, many people will rely on Google to find the voting locations and times on August 30th Election Day.  This is very troubling, that West Palm Beach News would show fake results on their page just for "testing". If their web team was conscientious and was just testing the page as it says now at the link, they would have specified the page to be blocked from search results while testing with a robots.txt file in order to prevent getting Indexed by Google.  Sometimes it has taken two weeks for Google to index a website in their results, which then begs the question.. How long were the search results of the fake election numbers up on the wptv website? Screenshots are included below. 
The August 30th Election results are not in yet. It is also concerning this has happened in light of previous elections where Palm Beach County got labeled as "corruption county" and the city of West Palm Beach as the "New Capital of Florida Corruption" by Time Magazine in 2009.  Here is an article that references alleged corruption history in Palm Beach County's past.
http://opinionzone.blog.palmbeachpost.com/2015/03/22/is-palm-beach-county-ready-to-retire-its-corruption-county-reputation/
Laurel Bennett made the decision to run for our District 86 House seat because she is committed to giving the constituents of this district honest, thoughtful representation. She is committed to giving voice to the concerns and principles of the district which includes Loxahatchee, Haverhill, Wellington, Palm Beach Gardens, parts of West Palm Beach and Lake Worth.  She cares about keeping a balanced budget, reducing taxes, reducing regulations for businesses and caring the utmost for our beloved veterans. Her husband is a veteran and is in hospice care, and she is very familiar with the personal struggles and inefficiencies of medical facilities for veterans' health. She believes that she will be a unique voice in the fight for our nation's heroes.
Laurel Bennett wants to help struggling veterans, business, and families in District 86.  She humbly asks for residents of Palm Beach Gardens, Haverhill, Wellington, West Palm Beach, Lake Worth and Loxahatchee to vote for her in Early Voting final day Sunday August 28th or the Primary Election August 30th. 
For more information about Early Voting times in Palm Beach County
http://www.pbcelections.org/content.aspx?id=270 Early Voting Locations and Times for Palm Beach County with last day being Sunday August 28th.
​August 30th Primary Election: Find out where to vote and what times on August 30th Election Day by typing in a residential address on PBC Elections website at this link or calling Supervisor of Elections office. . https://www.pbcelections.org/precinctfinder.aspx​ 
For more information about Laurel Bennett's campaign, please go to 
http://laurel-bennett.com/ .
Source: Laurel Bennett Campaign
Share:
---
Categories: Elections, Politicians, Media and News
Tags: august 30th election, district 86 candidate, florida house candidate, haverhill voting, laurel bennett, loxahatchee voting, palm beach candidates, palm beach voting, republican, wellington voting, west palm beach news, wptv election results
---