Revolutionary New Platform Launches for Effective Afterschool Customer Retention Marketing
Press Release
•
updated: Mar 20, 2017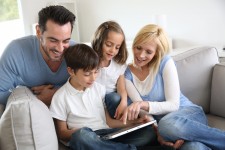 Dallas, TX, March 20, 2017 (Newswire.com) - ​BrainSource Solutions Inc. launches a new software platform known as SpurSpot at National Afterschool Association 2017 Annual Convention. SpurSpot provides a more effective afterschool customer retention marketing solution. This is one of the leading student motivation and afterschool marketing automation software ensuring positive results for the afterschool enrichment business. The company is widely known as one of the leading firms serving all after school enrichment programs.
SpurSpot is packed with an amazing and impressive set of features making this one of the best customer engagement and student motivation software that ensures better Afterschool customer retention. SpurSpot motivates students and engages parents at the right moment to keep them informed as well as encourage them to share their experience in social media.
SpurSpot showcases the success of students and generates social shares, referrals and reviews. Both students and parents are customers for any afterschool program. SpurSpot gamifies learning experience using badges, points and virtual awards to motivate students and provides an intelligent automated marketing assistant to engage parents. "It is very critical to motivate students and also engage with the parents to ensure success of any afterschool enrichment program," says Shankar Govindarajan, Founder and CEO of BrainSource Solutions Inc. "Our platform fills this gap in the education market. It provides student's fun and motivation while incorporating key customer engagement tools for businesses to attract more customers and spread brand awareness."
SpurSpot also features an intelligent and automated assistant (Sia) who will track every student and customer journey and engage them at the right moment. What parents have to say online is very important. This software helps in capturing the voices of parents. The platform effectively identifies parents and transforms them into powerful as well as influential social advocates and encourage them to spread the good word about the business all over their social network. Student achievement data feeds into gamification and marketing automation engine powered by deep learning algorithms to predict the perfect timing for engaging the parents. This context sensitive approach takes the guesswork out and guarantees stellar reviews and word-of-mouth referrals by parents in their social networks.
Gamification of the learning experience, marketing automation and extreme personalization features of this software are best in class to captivate the interest and attention of business owners who have the desire to grow their business using afterschool retention marketing. SpurSpot Integrates all student motivation and customer engagement efforts into one solid solution built specifically for the afterschool enrichment programs.
For more information, feel free to check out www.spurspot.com. For further assistance, call 972-837-9104 or email info@spurspot.com .
###
About BrainSource Solutions: BrainSource Solutions Inc is an exclusive Software Development Lab focusing on research and development of Software solutions using Artificial Intelligence and Machine Learning. We are technology start-up company located in Frisco, Texas. Our vision is to create an end-to-end automated customer engagement solution that helps learning centers improve student success and build a larger and more loyal customer base.
Media Contact:
Name : Shankar Govindarajan
Phone : 972-837-9104
Email : shankarg@spurpot.com
Source: BrainSource Solutions Inc
Related Media
Tags
Additional Links