Launching Minati, a DeFi Cryptocurrency Token
Press Release
•
updated: May 31, 2023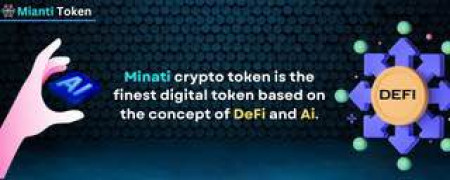 LONDON, May 31, 2023 (Newswire.com) - Today marks a significant milestone in the world of digital finance as we proudly introduce Minati (MNTC), which strongly emphasizes scalability and decentralization. This groundbreaking decentralized cryptocurrency token has been designed specifically to revolutionize the existing reward and transaction system.
With a relentless focus on high-end transaction security, privacy, and inclusivity, this blockchain-based token is all set to empower investors across the globe to take full control of their financial destinies.
Decentralization lies at the core of Minati's ethos, aiming to eliminate traditional intermediaries and put power back into the hands of the owners. Built on robust blockchain technology, Minati ensures transparency and immutability. This platform is the best of both worlds, i.e. traditional business and agile crypto models.
"At Minati, We believe in the power of decentralization to transform the financial landscape and empower individuals worldwide. Minati will definitely become a cryptographic success," said Mrs. Rabia Kapoor.
Key Features of Minati:
Privacy-Focused: Minati employs state-of-the-art cryptographic techniques to safeguard user privacy & security. So, our users can make transactions with complete anonymity.
Scalability and Efficiency: Unlike traditional banks, our cutting-edge infrastructure ensures high scalability and faster transaction speeds. Hence eliminating the bottlenecks often associated with cryptocurrencies.
Community Governance: When it comes to decision-making, Minati operates on a consensus-based model which enables the active participation of community members and the future development of the cryptocurrency.
IDO Digital Wallet: Now, the owners can store their trading-based Minati using a unique and encrypted address. There is no need to use any personal identity.
DeFi & AI Integration: The integration of AI has created new opportunities and possibilities for investors in the digital financial sector. Now fraud detection, automated trading, and risk assessment have become way easier.
Interoperability: We embrace interoperability, enabling seamless integration with AI, and other blockchain platforms to facilitate cross-chain transactions, and expand the greater possibilities for users.
Environmental Sustainability: Minati supports green initiatives. We are committed to minimizing the carbon footprint by utilizing energy-efficient consensus mechanisms
"By leveraging the potential of blockchain & AI technology, Minati aims to launch MNTC exchange worldwide with a secure wallet and on the NFT marketplace by mid-2023. We'll also be launching a live casino platform & AI products like drones and robots in mid-2024," said Gourav Sharma, the company's tech lead.
Minati App: The Best Crypto Solution
Based on the concept of DeFi & AI, Minati's decentralized App (DApp) is easy to navigate, smart, and secure. Whether it's about buying, selling, or keeping track of their assets, our platform gives great control to its investors. Now, our users can easily interact with the global marketplace using a smartphone, and internet connection. Here are some of the finest features of the Minati App:
Global Network
Low fees
Crypto-news curation
Natural Language Understanding
IDO Wallet aggregation
Stay tuned for more information and updates on how you can join the Minati community and shape the future of decentralized finance.
Website: https://www.minati.io
Telegram: https://t.me/Minatiofficialsupport
Source: Minati LTD